Keyloggerele part of the most dangerous type of malwareThey are able to record every keystroke made on the infected computer. All sensitive information, Such as passwords, banking information, security codes or Credit card numbersAre vulnerable when it comes to keylooggere therefore users Windows (And others) should take into account besides usual anti-virus protection (Usually they can detect and keyloggers, but not always available or all anti-virus programs) and using a anti-keylogging tool, Able to keep your personal information safe, away from cybercriminals.
Zemana AntiLogger Free is a freeware utility it provides users Windows protection keyloggerelor, Keeping them Personal Information safe. It encrypts every keyAt the same time conveying information unencrypted pages / sites used by users (for example, when using banking information or when we want to we login to a particular site, Or a Email Address). Thus, even if the data are recorded and stolen by keyloggers, they can not be decipheredTherefore can not be used.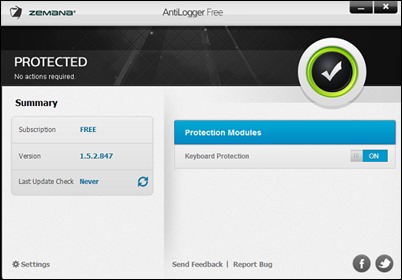 Zemana AntiLogger does not require Internet connection, The protection offered by this not depending on malware signatures collected in databases (The tool uses a proactive to detect potentially harmful applications, Unrecognized or unidentified Anti-virus programs instalalte). Also not cause conflicts with antivirus the users. And most importantly, Zemana AntiLogger provides protection for all applications in the system instalalteNot only Web browsers, As is the case with other anti-keylogging utilities.
application interface is simple and easy to use. In fact, after installation, it is directly configured to suit users' needs, but they can change settings After clicking on preferences Settings located in the upper left corner of the main window.
The application is available on two versions, a freeThat encrypts data sent from the keyboard and provides updated protection constantly, and a version premium (Costs 34$), Which also alerts users when they are files / applications trying to access your personal information, offers protection against banking Trojan, in attacks, man-in-the-browser and malware passing by secure connections and block the system running in real time (using IntelliGuard) Of any malware that attempts to steal information.
Note: Zemana AntiLogger consumes very few system resources and is compatible with Windows XP, Windows Vista, Windows 7 and Windows 8 (32 and 64 bits).
STEALTH SETTINGS - Free protection against keyloggers with Zemana AntiLogger
Free protection against keyloggers with Zemana AntiLogger