A function somewhat similar to Dynamic Lock from operating systems Windows, has had it for several years Apple for the whole range of computers Mac / MacBook. The option by which you can unlock Mac with the help Apple Watch.
I've been using this feature successfully for several years now and I'm happy to keep it on the new OS macOS Sonoma, release Mac and apps using the watch Apple it is done almost instantly.
So, if you own a computer Mac or laptop MacBook and the clock Apple Watch, this feature will be very useful for you.
How to unlock your Mac using the Apple Watch
Activating the function by which Apple Watch can unlock Mac or can grant access to apps that ask for system password, it's very simple to do. Open: System Settings → Login Password → Use Apple Watch to unlock your applications and your Mac.
Effective activation of the function "Unlock Mac with Apple Watch" is done quite easily, but if certain security, connectivity and compatibility requirements are met.
Requirements for activating the Mac unlock feature and apps with Apple Watch
If you cannot activate this function, you most likely do not meet one of the characteristics below.
1. Compatibility. Unlock function with Apple Watch is available on modecomputers Mac released after 2013. MacBook Air (starting with mode2013), MacBook Pro (starting with mode2013), MacBook (starting with mode2015) and modecomputers iMac (starting with mode2013).
2. Security. Make sure that at the account level Apple ID this two-factor authentication enabled (for "trusted devices") and that the same account is connected on both devices iCloud (Apple ID).
In addition, to use the unlock function Mac or apps, pe Apple Watch unlock password must be set (passcode).
3. Conectivitate. Wi-Fi and Bluetooth must be active on both devices, both when activating the unlock function and when using it.
After the above conditions are met, you can activate and unlock Mac with the help Apple Watch.
How the Mac unlock feature and apps with Apple Watch work.
To use this function, both devices must be in close proximity in the Bluetooth / Wi-Fi coverage area. When the computer screen Mac is locked, when you touch a key, mouse or trackpad, instead of manually entering your password or Touch ID, the unlock will be done automatically by the watch.
When Mac / MacBook is unlocked Apple Watch it signals this with a specific sound and vibration. Thus, even if he is not near the computer, the user will know that it has been unlocked.
When important changes are made, especially to security settings where the system password is required, the user will have the option to double-click the side button of Apple Watch to authorize the change.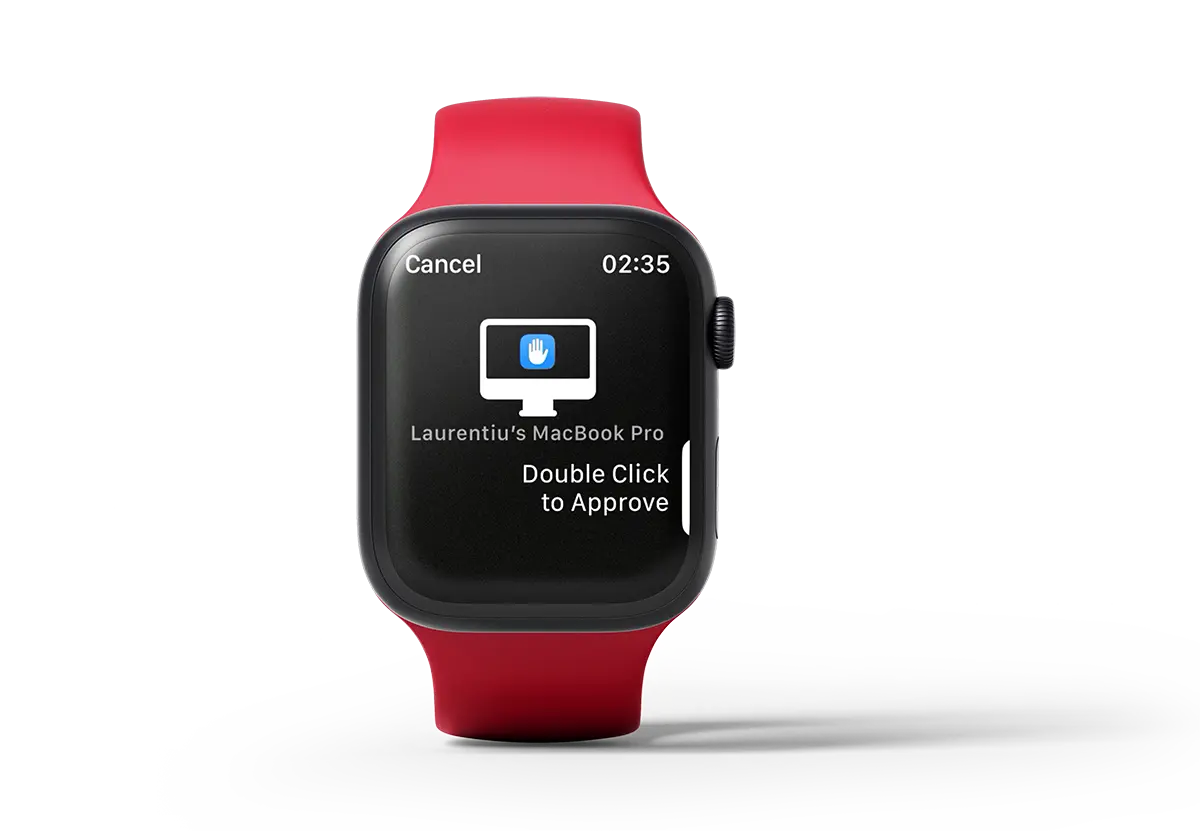 The same happens when an app requests special permissions.
This feature cannot be used if the devices are far apart.