Every time we login to a website or web service for the first time by using a specific browserBrowser that asks us if we want or not save information about user si password so the next login it be done automatic (Without the need to enter again credentials). This feature is active in way default and browser Internet Explorer.
If you use this feature (it can be deactivated from Internet Options > Content > Autocomplete > SettingsWhere untick User names and passwords on forms) Most likely have some passwords saved in the browser. But unlike other browsers (Firefox e.g), Internet Explorer lacks a password manager (Password manager), so if you forget the password to a specific account, we will be able to continue on it we login (if the password is saved in the browser), but we can not recover directly from IE.
Internet users Explorer but have the opportunity to retrieve saved passwords in your browser third-party programs with which you can display those passwords, and such a program is IEPasswordDump.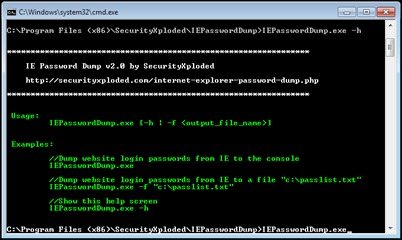 IEPasswordDump is a free application which allows users to display passwords saved in the Internet browser Explorer and save a list them in a txt file.
How does IEPasswordDump?
The application can be run only Command Prompt (Directory where it is installed, press and hold Shift and right click at the same time, then select Open command window here menu displayed) and command lines for this are:
IEPasswordDump.exe -h (Displays help screen application)
IEPasswordDump.exe (displays passwords saved on the Internet Explorer)
IEPasswordDump.exe -f "c: \ passlist.txt" (Saves a list of passwords saved in .txt file in a browser, the default mode, the file is saved in C: \)
Note: The program is compatible with all Internet versions Explorer (including the latest version, Internet Explorer 11) and provides support for both 32-bit and 64-bit.
STEALTH SETTINGS - Display to the Internet Explorer saved passwords with IEPasswordDump
Displays all passwords saved on the internet Explorer with IEPasswordDump