All users Windows I know how important the feature System Restore when it comes to repair or restoring the operating system Windows to a previous state. However, in certain situations, it happens not work correctly (or at all) users being unable to be created Restore Point Links (Be manualor automatic, Or both) or unable to restore the system, System Restore showing error messages.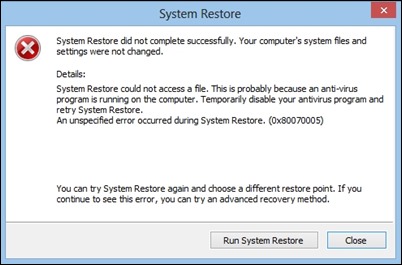 If you you are in such a situation, it is possible that one of the solutions below to resolve problem with System Restore (Although we can not guarantee that the solutions described below will work for you, in most cases at least one of them give results).
How to fix it System Restore when not working in Windows 7 or Windows 8?
make sure that the feature System Restore is activated (control Panel > System > System Protection, If it is deactivated, Click on the partition you want to activate the sub Available Drives) Or that you have enough hard-disk space restore point to store sites (because System Restore can store restore point sites require a minimum 300 MB space each of the partitions for which it is enabled)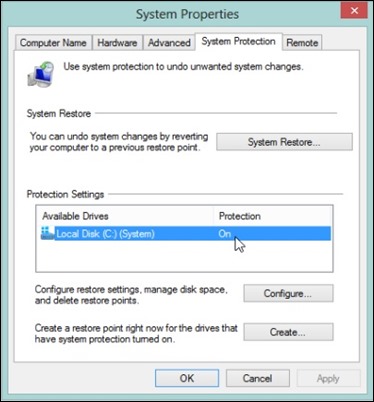 If you use a relatively large system and notice that system has no restore point created, Try to create one manual (Then check that it was created or not)
if you can not create a restore point, disable antivirus or any other Security software you are running, then try again
run System File Checker a Command Prompt cu Administrator privileges (Command is sfc / scannow). After the process is complete, reboot and try again to create a restore point
boot into Safe Mode and then try either Create a Restore PointOr to restore the system to a previous state (In some cases, services or drivers may affect the correct functioning of the System Restore)
Try running a Clean Boot (In msconfig, Tab General, select Selective startup and uncheck Load startup items, Then in tab Services, Check Hide all Microsoft services and click on the button Disable all. Click on OK and restart your computer), and then try again to restore or create a system restore point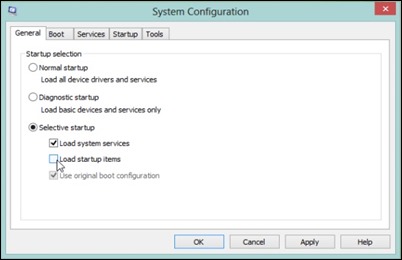 running a Check Disk from a command prompt with administrator privileges (type command chkdsk / f / r and hit Enter), and then try again to use System Restore
enter services.msc in Run and give EnterThen check if the services Volume Shadow Copy si Task Scheduler runs and set them as automatically
open Event Viewer (type: eventvwr.msc / s in Run), Then click on Applications & Services Logs to check if there are records of any problems / errors System Restore
If none of the above solutions do not work, before reinstall the operating systemAs a last attempt, reset Windows Repository:
Boot Safe Mode (No network connection /networking) And open a Command Prompt cu Administrator privileges
type the command net stop winmgmt and give Enter to stop the service Windows Management Instrumentation
Browse the directory C: \Windows\System32 \ WBEM and rename the folder Repository in repositoryoldThen give restart the computer
After restart, open again Command Prompt as an Administrator and enter the command again net stop winmgmt. Then type winmgmt / resetRepository, Give Enter and restart your computer.
Success!
STEALTH SETTINGS - How to fix System Restore not working in Windows 7 or Windows 8
What do we do when System Restore does not work in Windows 7 or Windows 8