If you find it difficult to part with Windows 10 because many user interface (UI) elements are changed, then we have good news. You can make the Windows 11 interface look like Windows 10. In other words, if you want to have a Taskbar with the Start menu on the left side in Windows 11, along with many other visual elements from Windows 10, all you need to do is follow the steps in this tutorial.
So, if you're looking for a simple way to revert to the familiar behavior of the taskbar and File Explorer from Windows 10 in Windows 11 without resorting to paid third-party applications to replace the Start menu, then look no further than ExplorerPatcher. All you need to do is install ExplorerPatcher.
It is very simple, stable on many versions of Windows 11 and does not require advanced knowledge to change the interface Windows 11 in style Windows 10.
How do you make the Windows 11 interface look like Windows 10?
ExplorerPatcher is a popular user interface customization software for Windows. This small tool can be used to improve the user interface in operating systems Windows 10 and systems Windows 11.
If you don't like the default look and feel of the taskbar Windows, Windows Taskbar, File Explorer, Start Menu or other UI (user interface) elements you can customize using this free tool. You can also restore or bring back classic UI elements in newer versions of Windows with the help of this free software.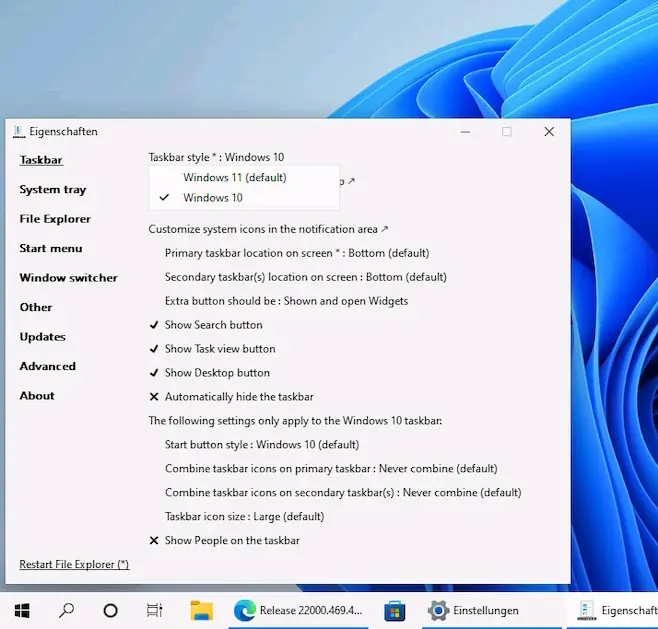 All you need to do is download the latest version of ExplorerPatcher from Github (download link). At this date, version 22621.2361.58.1 is available, compatible for OS versions: 22000.2416, 22621.1, 22621.2134, 22621.2361, 22631.2338 and 23545.1000.
In this new version, a number of errors from previous versions are solved:
Taskbar10: Fixed Windows 10 taskbar not showing up on Windows 11 builds with "Never combine" on the new taskbar.
Taskbar10: Fixed pen menu crashing explorer.exe on 22621.2134+.
Taskbar11: Fixed a bug that crashed explorer.exe when right clicking the new taskbar on Windows 11 builds with "Never combine" on the new taskbar.
File Explorer: EP now tries to avoid crashes related to the new Windows App SDK views.
On OS builds 22621+, fixed a bug that crashed explorer.exe when required functions in twinui.pcshell.dll (for Win+X and Windows 10 Alt+Tab) could not be found using the fallback method.
Install ep_setup.exe then customize the interface Windows as you wish. You can change a series of elements that you can return to at any time with a single click.
Here are some important features of ExplorerPatcher that are worth mentioning:
Restoration of the classic taskbar (Taskbar) from Windows 10 in the system Windows 11
Restoration of the classic style context menu Windows 10 (right-click menu) in Windows 11.
Restoring the Ribbon from Windows 10 or the command bar in the style Windows 7 for

File Explorer

from Windows 11.
Restore the classic switch screen "ALT+TAB" in the old style of Windows NT for Windows 10 / 11.
Enabling the full Classic File Explorer experience on the system Windows 11.
Customize the look of the Start menu for Windows 11.
Disabling or removing the section "

Recommended

"In

Windows 11 Start Menu

.
Automatic page opening "

All Apps

" in the interface

Windows 11 Start Menu

.
Customizing the appearance of the icons in the notification area of ​​the taskbar (

system tray

).
Restore the classic file transfer dialog for Windows 10 and for Windows 11.
Disable or remove the navigation bar and search box moderne for

Windows Explorer

.
Enable colored title bar for

Windows 11 File Explorer

.
Disable rounded corners in program windows in the system Windows 11.
Prevent redirection of Control Panel items, System and other elements to pages moderne of Settings from Windows 11.
In addition to these already existing options through which you can make the interface Windows 11 to look the same as Windows 10, it is very possible that new exciting updates will be brought in the coming period. The ExplorerPatcher project is updated fairly constantly.
How do you uninstall ExplorerPatcher?
If for various reasons you want to uninstall ExplorerPatcher, there are several methods.
1. You can uninstall from "Control Panel -> Programs and Features" or from "Windows Settings -> Apps and features".
2. You can execute the command: ep_setup.exe /uninstall in the utility Command Prompt.
3. Rename the executable file ep_setup.exe în ep_uninstall.exe and run it.
Restart Windows.