With the release of version Firefox 35, Mozilla introduced new Feature Links in web-browser or, one of them being Share Services. With this feature, Firefox users can share-ui page or Web content on various networks social, Such as Facebook, Twitter, Google+, LinkedIn etc., without access to any of those networks.
Since this is a feature built-in Firefox, activation Share Services (By default, this is deactivated) Does not require the installation of add-ons Additional. If you want to use Firefox Share Services to share ui different on your accounts in certain social networks, you can do so by following the instructions below.
How do I feature the Share Services in Firefox?
click the icon in the form of paper plane displayed to the right of toolbar (After field Search), Then click on the Take me there!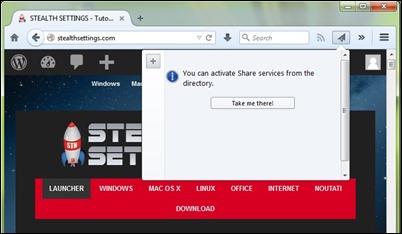 from social networks listed, click on the ones for which you want to enable sharing, via Firefox, then click on the button Activate Now and confirm the activation by clicking on Enable Services (Activation can not be done for multiple social networks at the same time, you have to repeat the steps described for each network separately)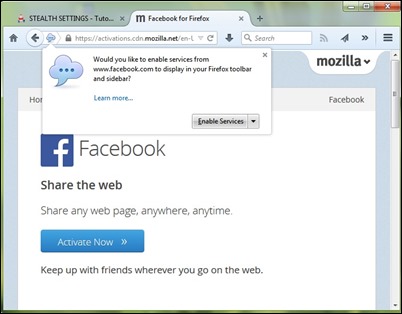 if you are not already logged in Firefox on networks for which you have enabled Share Services, Log into your accounts
Then, whenever you want to share look a web page, click on the plane of the paper, select network you want to make sharing site (left), and click the button Share Link/Tweet etc. (url the page will be completed automatic for sharing)
Note: To access the feature of the Share Services, you will need to uodatati Firefox browser at least version 35.
STEALTH SETTINGS - How to enable Share Services feature in Firefox
How can enable the feature in Firefox Share Services