If regular use special characters in Windows (Be it documents, conversations or articles), then surely you are familiar with the tool character Map integrated OS. Sometimes the use of this tool can become tedious, especially if the text you are writing requires more special characters than usual (or introducing same special character several times). In such cases, the easiest would be to create Keyboard shortcuts with which to enter quickly and without too much trouble special characters necessary in written texts.
WinCompose is a free utility with which users Windows create shortcuts keyboard for entering special characters.
How does WinCompose?
More specifically, WinCompose allows users to select a Special key (hotkey or Compose Key) That activates a time sequence the typing of various key combinations insert special characters into text. For example, suppose that The hotkey set is key Right AltAnd special character that we want to introduce is ©. Identify in Sequences defined key combination for the character (for © key combination is C + A), Then press Right Alt sequence to activate the key combination that will insert the desired character (sequence will be active for a short period determined duration in turn can be chosen by users using the option Timeout, In default mode duration is 5 seconds).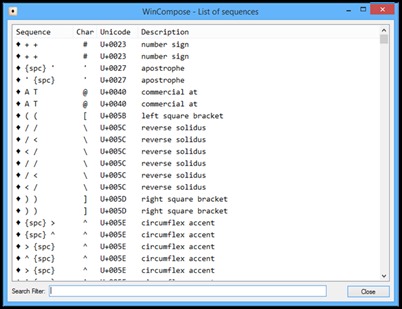 When the time sequence in which function key combinations for special characters is enabled, the application icon WinCompose the systray will be green.
To set the key Compose activating sequence in which key combinations to insert special characters are available give right click the icon in the systray WinCompose application, then select Compose Key.
Also, the right-click menu of the system tray icon can be set and sequence length (option Timeout) Or you can access the list of combinations defined special characters (Sequences).
Download WinCompose (Click on Raw).
Note: For a first rapid identification of key combinations defined for a particular special character, copy that character in Character Map and insert it into the right field Search Filter displayed at the bottom of the window Sequences.
STEALTH SETTINGS - How to create keyboard shortcuts for special characters in Windows
How to create shortcuts on the keyboard for special characters in Windows