After one week Microsoft version released Technical Preview the next operating system Windows, Windows 10That many users have installed on PCs supplied (either in dual-boot with another system Windows, or using a virtualization software such as VirtualBoxOr as upgrade to a system Windows previously) to test the new ones Feature Links and changes included in this.
Since this is a preview version (beta), Probably during use Windows 10 you meet certain errors caused by certain System updates installed (even if you have not had a problem, it is likely that they occur at a time, so that the recommended Test Method a Windows 10 Technical Preview It is in the Virtualization), The only way to resolve these errors are uninstall system updates.
How to uninstall all system updates installed in Windows 10 Preview?
One method would be to use System Restore to restore the system to a previous state install updates that have caused errors. But if for some reason System Restore does not work for you, Microsoft included in Windows 10 Preview o option which allows users to uninstall all system updates made:
open Start Menu and click on the button PowerThen hold down the Shift and select Restart menu (in this way, after restart, the system will display the menu Advanced Startup)
the options displayed, select Troubleshoot (refresh or reset your PC, or use advanced tools)
In the next screen, select Uninstall updates Preview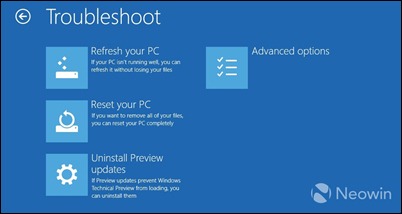 After selecting this option, the system will restart again, then will display a Uninstall menu for system updates; you have to select Your Microsoft account then enter password for it to be able to uninstall, then click the button Uninstall.

Thus, all System updates installed after installation Windows 10 Technical Preview will be uninstalled. Note, however, that they will be installed again after you boot in Windows 10 (to avoid this stuck installing automatic updates system).
STEALTH SETTINGS - How to uninstall system updates in Windows 10 Preview to fix related issues
How can we uninstall system updates in Windows 10 Preview to resolve the errors caused by them