Probably the best known feature the new Windows 8, But also the most criticized Start Screen sparked different reactions each user. While some of them became fans (more or less) his ardent, are still users prefer to disable and return to classic Start Menu using third-party applications.
One of the reasons for dissatisfaction (for both categories of users) is that every new installation an application, a tile for this is self-set (Self-pinned) in the Start Screen, it soon became crowded with many applications that are used only occasionally.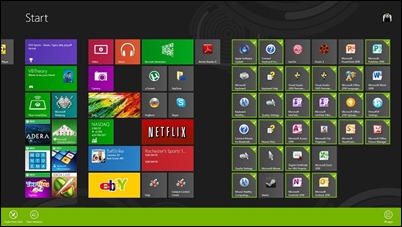 Although tile sites for new applications can be removed manually the Start Screen, a much simpler solution would be prevent the creation of new sites tile every installation applications.
AutoPIN Controller is a freeware utility, portable (No installation required) that prevents adding shortcuts on the Start Screen of newly installed applications. With this toolUsers can disable the feature self-retaining when you want to install applications that do not want creating links in the Start Screen tile, And you can reactivate it back whenever they want to create shortcuts to important applications and daily use.
How to use AutoPIN Controller?
All you have to do is run the application, Then click on the Lock "Pin to Start Screen" feature to disable the feature of auto-pinning.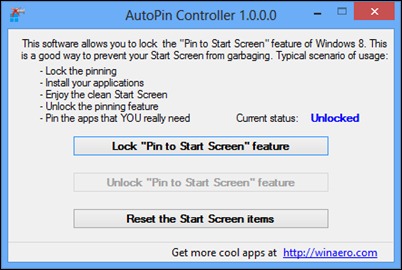 This option is very helpful to users who tend to install more applications once (Eg, using services such as ninite.com) And do not want to be created for each application's tile in the Start Screen, and users tend to test new applications constantly and do not want to manually delete the created tile in Start Screen after each installation.
If you want then reactivate the feature self-retaining (Creation of sites in the Start Screen tile applications installed), then click on the Unlock "Pin to Start Screen" feature (Available only if the feature is turned off). Users also have Start Screen's too busy and want to solve the problem quickly can click on the button Reset items Start Screen (Start Screen will show again that after a fresh installation of Windows).
Credit@winaero.com
STEALTH SETTINGS- How to Prevent applications from self-pinning 8 Windows Start Screen
How can we prevent self-determining 8 installed applications in Windows Start Screen