Sometimes when surfing the InternetIt can happen to receive constant navigation errors (When trying to access certain websites), Even if we have a stable internet connection. Sometimes, when we use two computers in the same network to surf online, it is possible that one of them can not access certain pages, while the other can sail smoothly. In such situations, the problem is not the internet, but DNS cache (Sites that can be accessed and changed IP addressesAnd your computer, the old IP addresses remain registered in DNS Cache; so whenever try to access those sites, your computer is trying to use IP addresses stored in the DNS Cache instead of actual IP addresses, hence navigation errors).
for users WindowsSolving this problem is very simple by reset DNS Cache command ipconfig / flushdns in Command Prompt (It should be rolled with Administrator privileges). If you are using Mac OS X However, in order to reset the DNS cache will have to follow the instructions below.
How do I reset the DNS cache in OS X?
open a Terminal
then type the command sudo killall avahi-dnsconfd -HUP and give Enter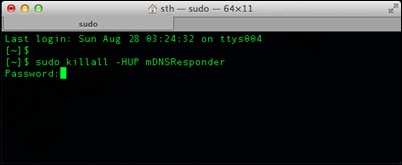 And so. After you use this command, you can browse online without any problems.
Note: For use of this command requires administrator rights, you will need to enter the password every time you reset the DNS cache using the command said.
STEALTH SETTINGS - How to reset the DNS cache in OS X
How can we reset the DNS cache in OS X