One of the Feature Sites available Microsoft Office Word 2013 is the ability to Search Online Selected sections of a text containing a Word file (Feature is included in right-click menu from Word). In mod default, search engine used for this feature is Bing (Hence its name Search with Bing), But considering that many users prefer to use Google instead BingMost likely they will want to change the option from Search with Bing in Search with GoogleForcing such online searches to be performed Google (In previous versions of OfficeThe option Search with Bing was available as Look Up> Bing).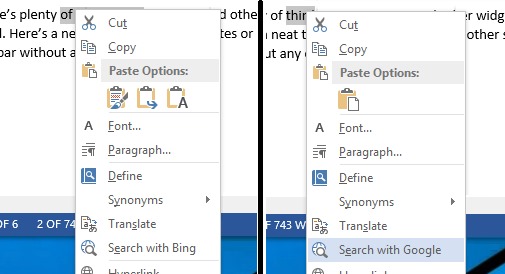 If you used to use this feature MS Word and you want to change the search engine default (Bing) With GoogleYou can do this by using a simple Registry hack.
How to change your Search with Bing in Search with Google in MS Word 2013?
open registry Editor (type: regedit in Run and give Enter)
then navigate to key site HKEY_CURRENT_USER \ Software \ Microsoft \ Office \ 15.0 \ Common \ General
under General, on the right, create the following String input:

SearchProviderName, To which you give value Google
SearchProviderURI, To which you give value http://www.google.com/search?q=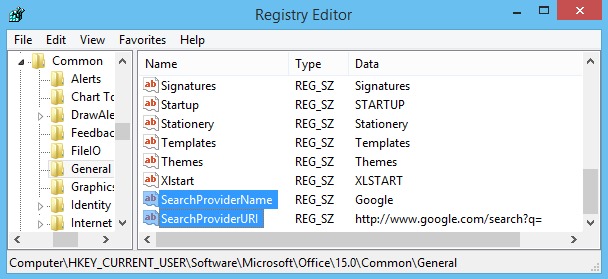 The change will be immediate effectUsers can search the selected text in Word using the search engine Google. If you wish to return to BingSimply delete the entry String added in.
Note: Before making any changes to the system registry, create a backup of them or do a restore point of the system to avoid any consequences (malfunction of the system or application).
STEALTH SETTINGS - How to change Search with Bing option to Search with Google in MS Word 2013