Along with the celebration of 16 years the launch the e-mail, Yahoo! completely changed interface its both web version as well as mobile applications. Additionally, the design comes with some Feature Links for Free e-mail serviceWhich were previously only available to premium version of Yahoo! MailSuch as the ability to create e-mail accounts Disposable (or Temporary), Or medium for POP3 connections or IMAP (Ie users Yahoo! service Free Mail may now connect to your e-mail using third-party utilities such as Outlook or Thunderbird or any other tool supporting protocols POP3 or IMAP).
How can we set up IMAP access to Yahoo! Mail POP3 or in Outlook?
open Outlook and click on File > Add Account
enter name si Your e-mail addressThen select protocol you want to use (POP3 or IMAP)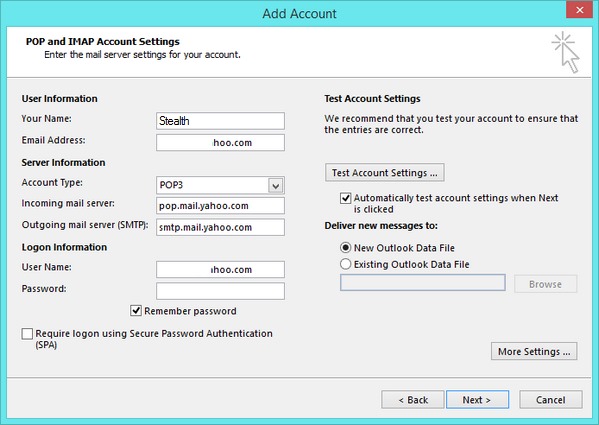 enter Protocol settings selected and data logging (Email Address si password), Then click on Next and on Finish
Formal settings access POP3 or IMAP in Yahoo! Mail are the following:
POP3 incoming server:
Server: pop.mail.yahoo.com
Port: 995
SSL: SSL / TLS
Incoming IMAP server:
Server: imap.mail.yahoo.com
Port: 993
SSL: SSL / TLS
Outgoing SMTP server:
Server: smtp.mail.yahoo.com
Port: 465
SSL: SSL / TLS
You will also need to specify port settings and activate SSL si TSL in Internet Email Settings (Click on More Settings then tab Advanced).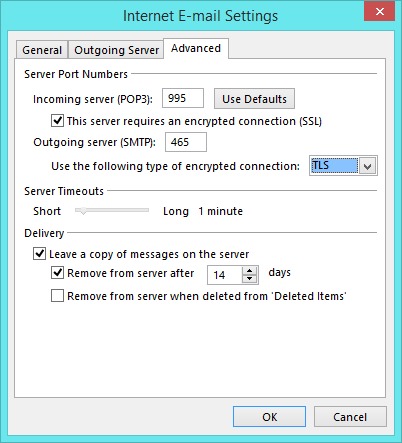 After you configure described above, you will be able to access your email account Yahoo! from Outlook. Success!
STEALTH SETTINGS - How to setup POP3 or IMAP access for Yahoo! Mail in Outlook