Most times when we check Email AddressIt is filled with all kinds of newsletters that we subscriber at a time (either out of curiosity or seemed like a good idea at the time, or to access certain information or applications), Or who do not keep in mind we have subscribed, and yet we receive regularly. How newsletters not perceived as spam by default, they crowded inbox and in some cases users irritating as hell, and the solution for them not to fill your e-mail address is unsubscribing.
Most newsletters you receive in e-mail containing the end, written with lowercase letters in most cases, a link through which users can unsubscribe from these newsletters. But if inbox bombarded newsletters from different publications or online shops, Unsubscribe from each party may consume some time.
If use Google Chrome ca default browser (Or alternatively), you can unsubscribe very easy to newsletters received address gmail, Yahoo or Outlook using extension for that browser, called removeMe.
Once installed, removeMe displays an icon at the top of your e-mail address used (you must log In this before). Pass your mouse over emails in your inbox, and you will notice a unsubscribe button displayed in a pop-up for each e-mail individually.

Also, the extent of places a button Unsubscribe and inside each e-mail, on top of them.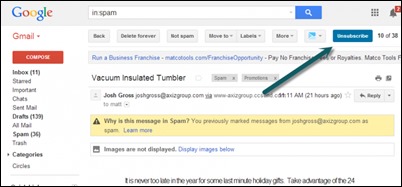 removeMe it is free and require no other settings from users. This can be used immediately after installation, and simplify the process of unsubscribing users from newsletters irritating.
Download removeMe (Chrome Extension).
STEALTH SETTINGS - Quickly unsubscribe from unwanted newsletters in your e-mail Using removeMe
Unsubscribe quickly from multiple newsletters received by e-mail using removeMe