Many users Windows 10 have plans excessive consumption of resources (HDD & CPU) consumed by "Update Orchestrator Service"
Before seeing how we can deactivate or escape this processor or processor load, let's see what it is and what the "Update Orchestrator Service" does.
The presence of this service in Windows NEVER Task Manager it should not worry you. There are very few chances like one virus / malware to be present in the Task Manager with this name. Update Orchestrator Service (UsoSvc) is a the basic system of the system operating Windows 10, running in the shared process svchost.exe and is dependent on Remote Procedure Call (RPC), unable to run without the latter. About svchost.exe We have talked before and I said that through it a series of services can be launched Windows. Windows Services. Update Orchestrator Service is one of these services, being run from% WinDir% \ system32 \usocore.dll.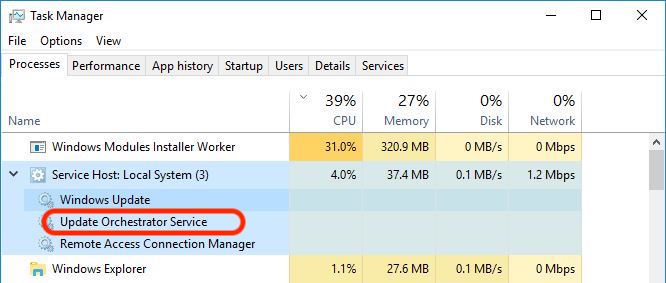 What the Update Orchestrator Service does
As the name suggests, this service manages the updates Windows 10. Without starting this service, it will be impossible to install the latest updateof yours Windows 10. For this reason, we suggest that you never disable this service Windows 10. The period of time that this service pushes the processor (CPU) of a PC up to 100% or overload the hard disk is limited. This usually happens on the period of an update in background or when it is verified integrity an update a Windows 10
How can we deactivate / activate Update Orchestrator Service on Windows 10
Being a service of Windows 10, we'll find this one in control Panel → Administration Tool → Services (or search for "services").
In the service list, we run up to "Update Orchestrator Service" and open the service options.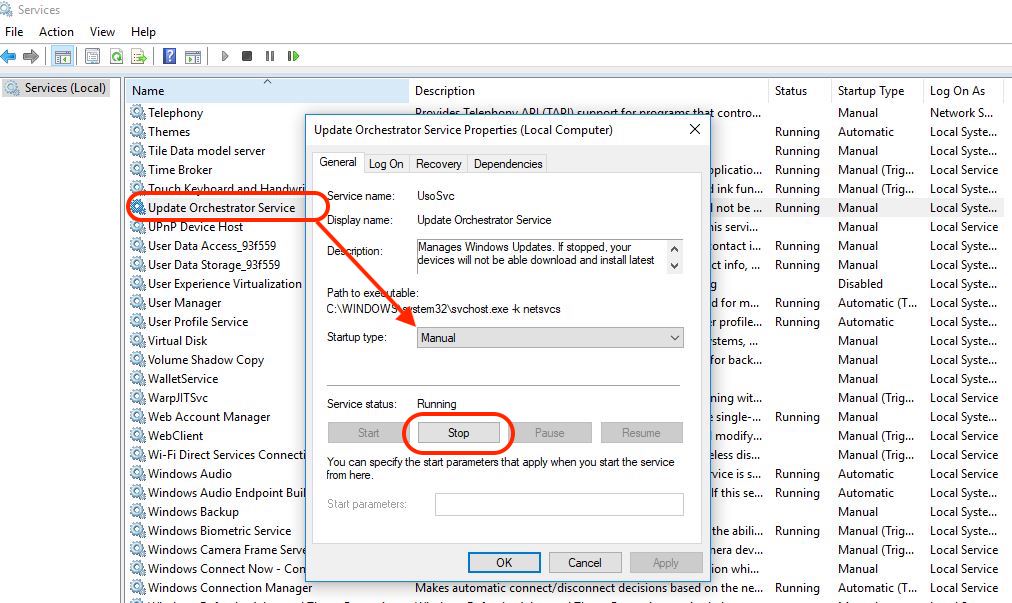 By default, this service starts manually, under "Local System". From the options panel, we can stop it "Stop" - it will start at the next request of Windows Update - or we can disable it altogether. We set "Startup type: Disabled"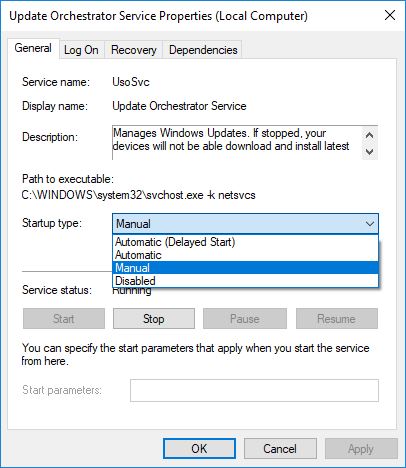 We remind you that after you set this service to "disabled", the updates Windows 10 will no longer be able to install on your operating system. You will no longer receive any driver updates, security updates or software updates. Therefore, we recommend that you leave the manual and stop it only if you need all the system resources at one point. Allowing the process to start after the first restart.
Disable / Enable Update Orchestrator Service - Windows NEVER Task Manager Processes