Although it is considered to be a fast browser, Firefox It became with every new version released in increasingly resource-intensive. And though no longer as fast as it used to not be silent. If you are a fan Mozilla Firefox but you want a simpler version (Lite) and fasterAnd especially to a mimim use of system resources, then it's a must try Pale Moon.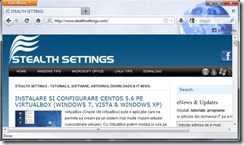 Although it is presented as a new browser, Pale Moon is actually a customized version the popular Firefox optimized for greater speed and efficiency (ie lacks some components which does not interfere with the functioning and displaying the pages and the majority of Firefox users I do not use them).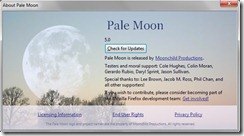 What are the main features Pale Moon:
Optimised for new types of processors.
Support for SVG (Scalable Vector Graphics) and Canvas.
Support for extensions (Add-ons) and Firefox themes.
Support for Personas (Skins Firefox).
support HTML5.
Inspired 100% of FirefoxWhich guarantees the stability and reliability of Firefox code.
Significant increase in speed for displaying and interpreting pages and scripts (compared to Firefox).
Low resource (Compared to Firefox) thanks sites feature disabled (ActiveX and ActiveX scripting, Parental Control, Accessibility, server-side components).
Pale Moon comes bundled with several different default Firefox configuration settingsDesigned to offer users a browsing experience more smooth and efficient. Also changes have been made to the interface by relocation of visual elements and for much of its functionality.
Download Pale Moon (online installer)
Download Pale Moon (offline installer)
Download Pale Moon (portable version)
Note: Pale Moon is only compatible with Windows XP, Windows Sight yes Windows 7 (does not support earlier versions of Windows).
STEALTH SETTINGS - Download Pale Moon: Firefox-based browser, optimized for speed
Download Pale Moon: A different kind of Firefox optimized for speed