Although it's been over a week since release of Windows 8, Very many Windows users 7 They said they will not give up OS supplied in favor of new (primarily due Design changes suffered from it). For them but for all Windows fans 7 who tend to their customize system periodically depending on your preference (or moody: P), in this article we present three topics superb black, that will convince definitely try them.
Only Black Theme for Windows 7 (Credit Tonev @deviantART)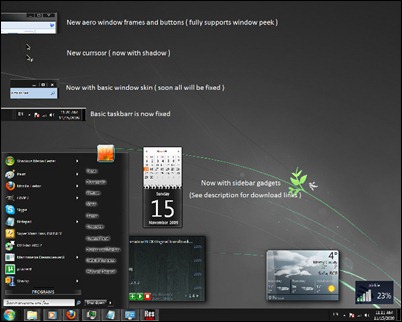 Download Black Only (Windows 7 Theme)
Blaque Theme for Windows 7 (Credit caeszer @deviantART)
Download Blaque (Windows 7 Theme)
Agility Dark Theme for Windows 7 (Credit DjabyTown @deviantART)
Download Dark Agility (Windows 7 Theme)
How to install themes?
To install the themes listed above, you need UxStyleA utility that allows installation of third-party themes on Windows 7 (Run the application, then install themes).
Extract the theme you wish to install a new folder desktop, then move the files in the folder Theme in C: \ Windows \ Resources \ ThemesAnd double-click the file .theme to set the theme.
If the subject requires and change font and / or file system, Right click on files . Ttf and select install to install fonts, and replace system files set of folders in theme (first must give take ownership la original filesThen create a backup thereof, in case you want to return to the original theme).
STEALTH SETTINGS - Download Windows Themes 7 Black (Windows 7 Customization)
Download Windows 7 Black Themes (Windows 7 Customization)