Although interface OS Windows changed from version to version, microsoft has brought changes cursors system since its launch Windows Vista (Same cursors are used in the newest Windows operating system, Windows 8 / 8.1). And while there are plenty of users who do not pay attention to this issue, as many users prefer to customize system close in detail to give it a original look.
If you are among Windows who tend to their customize systems and you want to change including default sliders of these, we recommend that you use the Cursor Commander.
Cursor Commander is a free application that allows Windows users to install custom cursors sets the system with a single click and also has manage cursors already installed in the system.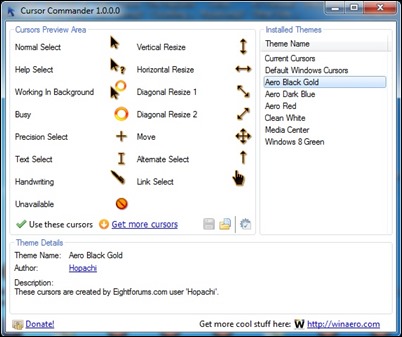 application is quite simple to use: after installation, select a set default cursors in the list on the right, then click on Use These cursors. Or, if you want to use cursors that are not already installed on your computer, click on the Load CursorPack file (Displayed in icon Save and the Settings) To navigate to the location of these cursors (which you want to install in the system), then click on Use These cursors. In addition, Cursor Commander gives users the possibility to view and download The various web packs custom cursors link via Get more cursors appear at the bottom of the application.
Download Cursor Commander for Windows.
Note: The application is compatible with Windows 7 and Windows 8 / 8.1.
Credit @ Winaero
STEALTH SETTINGS - Install and manage cursors with Cursor Commander for Windows
Installs and manages cursors in Windows Cursor Commander