Designed in the style HTC Sense, HTC Home It is one of the most popular widgetATVs / desktop gadgets-hate for Windows 7 si Windows Vista. This widget is designed to bring HTC Sense interface on PC desktops with Windows 7 and / or Windows Vista.

Home 2.0 HTC (Sense UI) for Windows (Gadget Download)
Metro HomeIs another widget Windows and Windows Vista 7But this time, as the name suggests, is based on the widget's style Windows Phone Metro UI 7.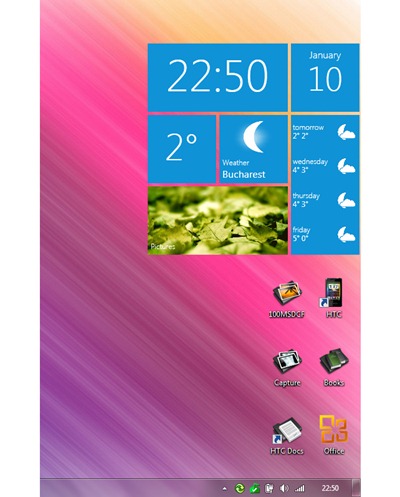 Metro Home provides information about Now, date, temperature current + the next four days. This desktop gadget can be used as a real desktop calendar, weather widgets (Celsius and Fahrenheit) and desktop clock. The widget can be increased, decreased and / or moved anywhere on your desktop PC, according to user preferences. Set default background on blue, but it can be modified very simply, with the possibility to choose any color you want.
Metro Home Settings: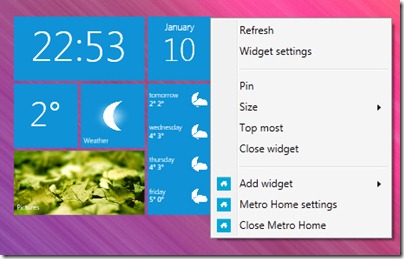 The application offers the possibility to update the weather condition from three providers: Foreca, FreeMeteo si MSN.
Download Metro Home
System Requirements
PC with Windows Vista or Windows 7 (32 or 64-bit operation systems). Also the software may function with other Windows operation systems, BUT we can not guarantee that.
Internet connection (also through proxy server Possible)
Microsoft.NET Framework installed 4
Home Page: htchome.org
Stealth Settings – HTC Metro Home (Windows 7 & Vista Desktop Widget).
Home Metro UI Desktop Gadget - Windows 7 / Vista Widget