He stayed less than a month until the event Windows 10: The next chapter will be supported by microsoft in the second half of January 2015 (Ie the date of January 21When, most likely, will be launched next version beta a Windows 10, Namely version Consumer Preview).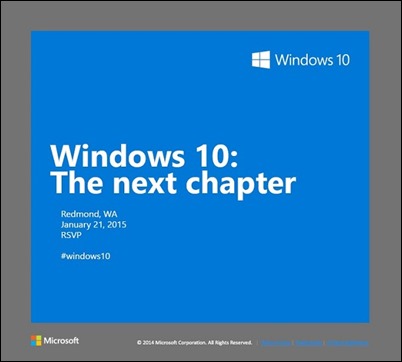 To meet users eager to test the new official build al Windows 10Microsoft has released a new utility, named Prepare this PC, With which users systems Windows 7 si Windows 8.1 will be able to upgrade to the next version of Windows 10 preview via Windows Update (Those running version Windows 10 Technical Preview build 9879 already have this feature enabled in the system).
Although Microsoft does not recommend users to install a preview version of Windows on a main computer (Especially if it contains important datesBecause they can be damaged or destroyed by any errors or become vulnerable) if you have a second computer that can test such a version, download the utility Prepare this PC on Microsoft official siteThen run it to activate upgrade to Windows 10 Preview (version will be launched in January 2015) via Windows Update.
If you prefer to make a clean installation new releases Windows 10 Preview instead upgrade via Windows UpdateMicrosoft will provide users and ISO image installation its (currently at download link shown below is available ISO image the first version 10 Windows Technical PreviewBut it will receive automatic through Windows Update upgrades to new versions released by Microsoft).
Prepare this PC Download (upgrade to Windows 10 Preview).
Download ISO installation image for Windows 10 Technical Preview.
Note: The Windows version will 10 Technical Preview expires on April 15 2015 and final version (RTM) of Windows will be released in the fall 10 2015.
STEALTH SETTINGS - Microsoft released a new tool to prepare to upgrade to Windows PC via Windows Update Windows 10 Preview
Microsoft has released a utility that prepares the computer to upgrade to Windows 10 WINDOWS UPDATE VIA PREVIEW