Windows Media Center is used on large scale of users Windows 7 and is a very popular feature that it offers control over the media files stored on the hard drive, the management of TV programs and DVDs online.
By Windows Media Center can be accessed and Vizio movie, cartoon, educational programs, Culture, sports channels, Etc .... but as well can be accessed TV, DVDCEs or library media that have content not suitable just for kids. Films and shows for adultswith vulgar and / or violent in content, suggestive dialogue.
For a parent who uses Windows Media CenterA good way to take away the child from inappropriate media content is to set "parental Control"Windows Media Center. This feature helps the user (parent) to restrict child access in a number of TV channels, DVDs and programs.
Parental Controls in Windows Media Center (protects baby from violent language, sexually explicit scenes, language and violent scenes)
To limit a child's access area in Windows Media Center and to password some TV channels, DVDs and media libraries, you have to follow some steps:
1. open WMC (Windows Media Center) and click on "Tasks".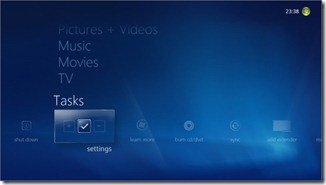 2. Click on "General"...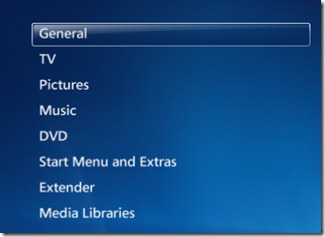 3. Click on "parental Control"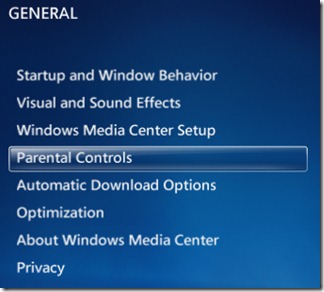 4. In "Parental Control" will have to set a password, an access code consisting of four characters.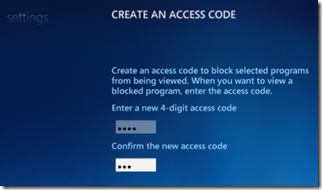 5. After you choose a password you can control TV Ratings si Movie / DVD Ratings.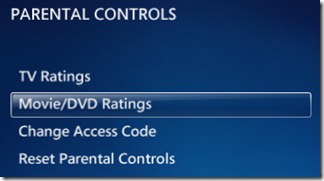 Under these two buttons you have advanced options to limit your child's access to the content of broadcasts, tv channels, movies and DVDs.
Parental Control Settings> TV Rating
1. Click on the TV button and check the boxes next Rating Turn on TV blocking si Block unrated TV Programs. On "Maximum allowed TV ratings"Select TV-PG. Selection buttons do + si –.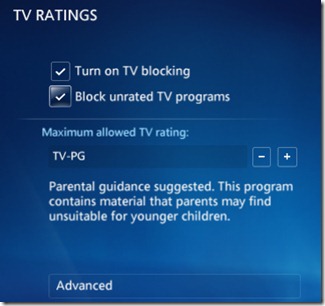 2. If you click on the button and Advanced have possibilities to block violent content with vulgar language and adult content.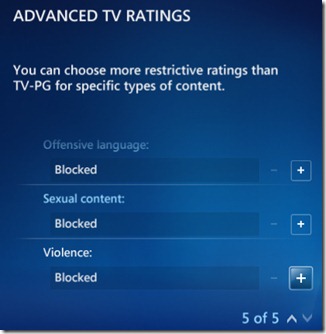 After you make the settings, click "Save" to save the changes.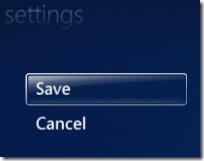 Parental Control Settings> Movie / DVD Ratings
And here you have to follow the same steps as in the TV Rating. Check Turn on movie blocking si Block unrated moviesThen select PG & Click Save.
How limit children's access to adult movies, scenes of violence and foul language in Windows Media Center.
Stealth Settings - Windows Media Center Settings.
Setup Parental Controls in Windows Media Center