With Windows 11 Insider Preview Build 23419, Microsoft has added a dedicated page to the settings USB4. In the new page for USB4 it is available in the settings Windows 11 to: Bluetooth & devices > USB > USB4 Hubs and Devices. But, what is usb4 and why are additional details needed for this type of connections?
In an article finally, I explained the differences between USB-A vs. USB-C, and I was saying then, that USB-C supports a wider range of connection types and USB standards, depending on the technology of the device and the connector.
When referring to "USB", I noticed that a lot of people make confusion between what what does a USB connector mean? (cable type, with strict reference to design), USB connector type technology and hardware or software compatible with certain USB standards.
What is USB4 and what are the features?
USB4 is the latest USB interface standard, developed by USB Implementers Forum (USB-IF). USB4 does not refer to the type of connector, but to the technology for connecting PC peripherals.
USB4 was released in September 2019 and came with a significant improvement over previous USB standards.
Let's continue to see what are the main features of USB4 and why it is necessary for Microsoft to offer in Windows 11 extensive support with exact details about these types of connections.
Compatible with USB-C
USB4 is designed to work with the USB-C interface, which is one of the most versatile and used connectivity interfaces today. This makes USB4 compatible with a wide range of electronic devices.
Moreover, the connectors and connection ports with USB4 support are on the USB-C interface design.
Data transfer speed and multiplexing
USB4 2.0 offers maximum data transfer speed of up to 80 Gbps. This transfer speed is four times higher than the speed supported by the standard USB 3.2 and eight times greater than USB 3.0. This means that the transfer of large files or the download of multimedia content will be done much faster than on any other USB standard currently available. (2023).
Due to the high transfer speed, USB4 also supports multiplexing.
USB4 uses a technique called "transfer time multiplexing" to allow multiple data streams to be transmitted simultaneously over the same transmission line. This reduces latency and makes data transfer faster and more efficient.
Fast charging with power up to 100W
USB4 is an ideal standard for laptops. It offers support for fast charging with high electrical power. USB4 can provide up to 100W of electrical power, which means it can quickly power and charge electronic devices with higher power requirements, such as laptops.
I am very much in the market modenew laptops where the standard charging port has been replaced with USB-C ports. Apple has been using this type of charging for a long time MacBook, even before the launch of the USB4 standard.
Support for multiple protocols and versions
USB4 is compatible with several protocols, including Thunderbolt 3, which means that devices using these protocols can be used interoperably with USB4.
USB4 is designed to be compatible with previous versions of USB. Thus, devices using previous USB standards will continue to work with USB4. However, the transfer speed will be limited to the level of the previous USB standard.
USB4 is a good support for
DisplayPort

si

eGPU

Through a USB4 port it is possible to connect an external graphics card (eGPU). USB4 offers native support for DisplayPort, which means it can be used to connect external monitors and other video devices, including external graphics cards. This makes USB4 an attractive alternative to other video connectivity standards such as HDMI.

Using an external graphics card through a USB4 port can significantly improve the graphics performance of a laptop or computer desktop, which can be useful for games, multimedia content playback or productivity tasks that require high graphics performance.

It is important to know that using an external graphics card through a USB4 port can be limited by the speed of the port, so you may not always get the same performance as when using an internal graphics card.
Secure and data encryption
USB4 offers support for data encryption, which means it can be used to protect confidential data against unauthorized access. This is an important feature for devices that contain sensitive information, such as data storage devices.
Conclusion. What is USB4?
In conclusion, USB4 is a greatly improved USB interface standard that offers a wide range of advanced features. From data transfer speed to compatibility with other devices and protocols, USB4 is designed to provide a faster, more efficient and safer user experience for electronic devices.
USB4 on Windows 11
As it is a standard used in many applications, for operating systems Windows 11, can cause compatibility problems when other devices are connected to the computer or laptop.
Reached version 2.0, USB4 produces compatibility problems regarding the connectors used. As I said above, USB4 uses the type of USB 3 connectors, but it can be quite difficult for a user to discover the right cable for this standard and to understand the compatibility criteria.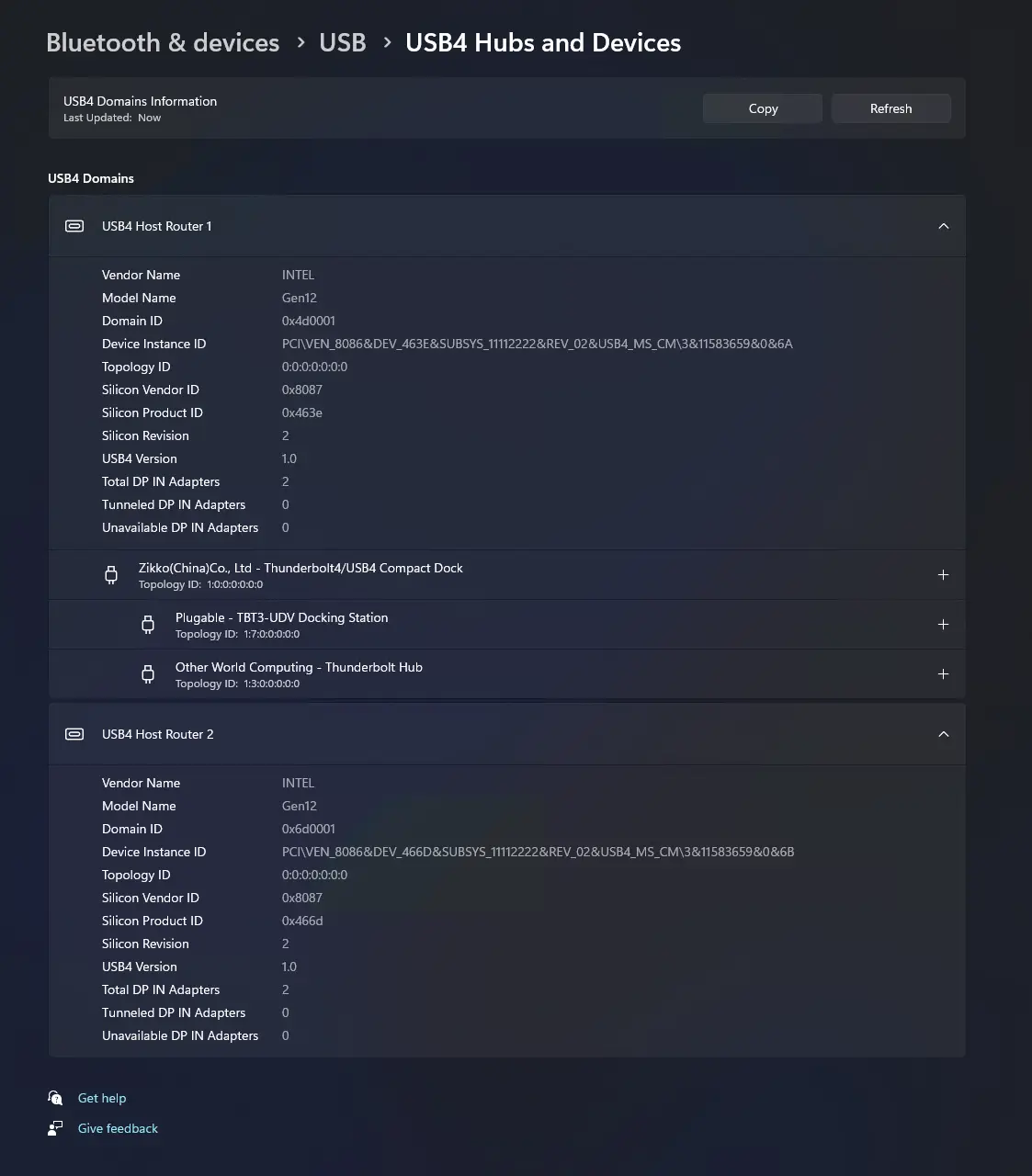 These details about USB4 are currently only available on "preview" versions of Windows 11, but surely Microsoft will introduce them as soon as possible in the final versions.