If you are among those who have allergy and monitors that are loaded overzealous (: P) in an attempt to keep it untainted by any trace of icon, shortcut etc., but also want the access to applications / folders important to be as fast, Windows 7 the optimum solution: the ability to "stick" almost any shortcut to taskbar. Adding to Taskbar shortcut links to applications most 'used', have everything you need at a click distance and, in addition, you can keep spotless desktop :). Or, almost spotless. For some programs or folders Keep persuaded to leave in favor of desktop taskbar by simply drag & drop, A situation seen with Recycle Bin.
because deleting the Desktop Recycle Bin is not recommended (tested on their skin) Solution at hand would be either put it somewhere in the corner of the screen and try to ignore it or to add it to the menu Windows Explorer (Pin to Windows Explorer).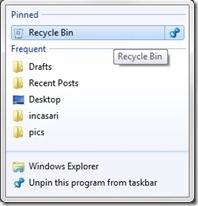 Or possibly you can follow the steps below to add a shortcut to the Recycle Bin to the Taskbar:
1. Right click on desktop, From the menu select New then shortcut.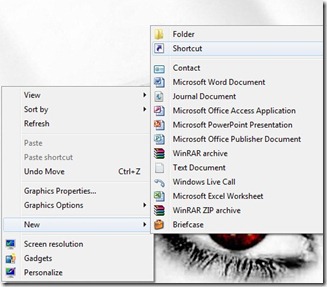 2. to location type enter explorer.exe shell: RecycleBinFolder then let Next and name the shortcut whatever you wish (preferably Recycle Bin : P)
3. Right click on the shortcut created and click PropertiesThen click on the Change Icon.
4. In Look for icons in this file enter % SystemRoot% system32imageres.dll then select the icon for the Recycle Bin Apply si OK.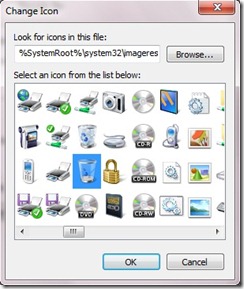 Et voila! Take a shortcut to the Recycle Bin, fully functional, you can shoot Taskbar (drag & drop) or you can right click on it and select Pin to Taskbar.
Careful! Even if you added a Recycle Bin shortcut the Taskbar, not delete the Recycle Bin on your desktop! To hide its icon uncheck Show Desktop Icons from context Menu (Right click Desktop->View).
Windows 7 type: Add Recycle Bin to the Taskbar [Pin to Taskbar]