Desktopvirtual (or multiple), A feature already available for several years on systems OS X si LinuxCan be activated and Windows using third-party applications. Fortunately, since Windows 9This feature will be included in Sites feature default of the system.
OS Windows have API support for desktopvirtual before launch Windows XPBut so far Microsoft not offer users a GUI for their activation. In Windows XPThis feature may be enabled by means of a tool offered by Microsoft, namely Microsoft's Virtual Desktops PowerToy for Windows XP (or Deskman.exe) But this tool is not compatible with other systems Windows more recent. users Windows Vista, Windows 7 si Windows 8 but they provide another utility, provided all the Microsoft, to active desktopvirtual on these operating systems, namely Desktops v2.0.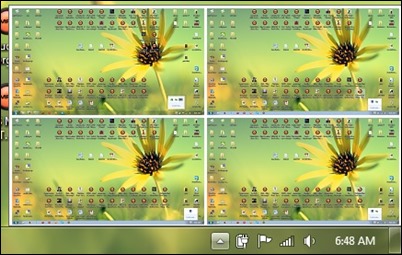 How we can activate desktopvirtual in Windows 7 and Windows 8?
Desktops v2.0 is a free utility part of Sysinternals collection (A collection of Links to third-party tool which Microsoft purchased a few years ago due to its popularity) and operating three desktopadditional virtuals Besides desktopthe actual system. Desktops v2.0 is one of the simplest applications of this collection, its use does not affect any consumption of system resources and not produce any changes in your system files.
How it works Desktopsv 2.0?
After you download archive Desktops on website Windows Sysinternals, Extract its contents and run the file Deskotops.exe. Will be displayed Minimal setup dialog where users can set the the utility will automatically start at Windows Startup checking option Run automatically at logon and create custom shortcuts for the quick change between the four desktopavailable (by default, the combination used is Alt + 1 / 2 / 3 / 4).
To further customize these shortcuts (or if you want to running the utility to disable automatic login in the system), You can access the setup dialog again right-click the icon Desktops from systray and selecting Options.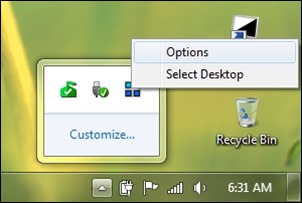 Also, switching between desktop-hate it can also be done by clicking on the icon placed by the utility in the systray and then selecting one of the four desktopdisplayed in thumbnail. The first use of a desktop virtualSystem create that desktop by running a install new Process explorer.exe for it.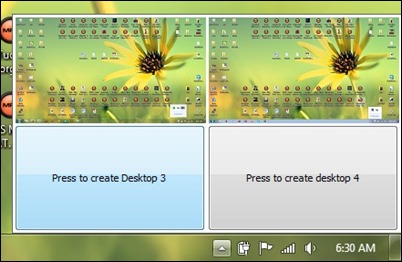 After creating the desktopvirtual machines, windows si applications opened one of desktopwill not be open / accessible from the other three; to access them you will need to switch back to desktopthat. Also, each of the four desktopwill have a separate systray, Active icons in the systray of a desktop not being active on the others desktop-hate.
Large minus the utility Desktops v2.0 is that does not allow moving a window from a desktop on another. But despite these drawbacks, the utility is very useful for users who like to organize their workspace according to tasks.
Download in English Desktops v2.0 for Windows.
STEALTH SETTINGS - Virtual enable desktops in Windows 7 and Windows DO NOT use Desktops v2.0 (Microsoft tools)
Activate desktopvirtual in Windows 7 and Windows 8 using Desktops (Microsoft Tools)