Many users who have switched from Windows 7 or Windows 8.x la Windows 10, They noticed immediately after starting the new operating system, like your laptop or PC with the new one Windows 10 is going very hard. When this happens, we first think of it Memory (RAM) or at Processor (CPU), But there are many situations when Slow PC running Is caused by utExcessive hard disk imbalanceLike to System processes or processes applications.
wsappx Is one of the processes that can cause this slow running of the PC by using it in a percentage 100% and hard diskacquis. This use of 100% does not allow the running of other applications and other operations that require the hard disk. The locking moments appear a Windows 10 and delays in executing orders.

wsappx is not a virus Or another form of malware. It's a process Windows developed Microsoft, Introduced with the launch Windows 8.1.
wsappx is a process that is responsible for at least three services Windows (Windows Services), all having as common denominator: Microsoft Store.
1. Windows Store Service (WSService)
WSService Offers support for the Microsoft Store infrastructure. Start on demand only, And if you want to totally disable it, they will appear Problems of use And the Microsoft Store. You can disable it only if you do not use Microsoft Store.
2. Client License Service (ClipSVC)
ClipSVC Is responsible for checking purchases from the Microsoft Store. The service starts on demand, and if you have shopping made from the Store, we do not recommend disabling it.
3. AppX Deployment Service (AppXSVC)
AppXSVC Is the service that uses most Hard disk resources after upgrade from Windows 8 to Windows 10. This service is responsible for checking the applications in the Microsoft Store. Although it is set to start only on demand, a good period of time, it will run and stress us quite a lot.
All three services do not offer us the ability to permanently stop them / change the status at startup. "Startup type"Can not be modified.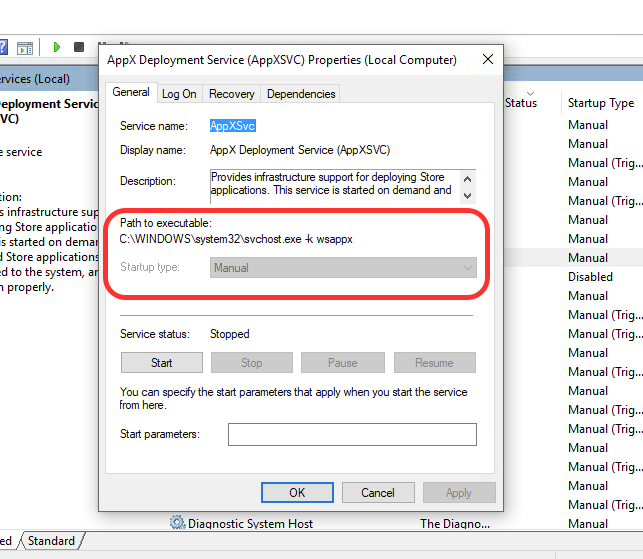 Solutions for the high resource consumption problem (100%) hard disk by the wsappx process
From what I have observed, this problem is solved by itself. Excessive use of resources takes place only a few hours after the upgrade is done Windows. Most likely, until the applications installed on the system and the integrity of the Microsoft Store are verified.
One solution would be to stop the services by giving up the Microsoft Store.
How to disable Microsoft Store on Windows 10
Navigate in Local Computer Policy > computer Configuration > administrative Templates > Windows Components > Store.
wsappx Is likely to appear in Task Manager and after deactivating the Microsoft Store. This process is responsible for a multitude of Microsoft services Windows.
What is wsappx in Task Manager and why it uses 100% Disk