Undoubtedly Windows 8 is one of the most discussed topics in recent years, primarily because it is the newest operating system Windows released, but also because modern interface that it has implemented, and new feature sites designed to make the system more attractive for users and more stable.

Both users who have already purchased Windows 8, and those who want to know more details about it before you buy will be pleased to know that in addition feature sites advertised by those who did Review sites this operating system, There are some s feature hidden, Which has not been mentioned much, but surely they will earn a place in the category of "important".
Hidden feature of these sites, we will mention in this article on the top five:
1. Ability to hide sites content Jump List
Jump List sites are very convenient to use in order to quicker access files, programs or websites used daily. This Windows feature proved to be very helpful for users who want to save time. But if other people (family, work or among friends) have access to personal computerMost likely a large number of users want to hide sites content Jump ListVariety of reasons. Windows 8 to achieve this very quickly: right click on taskbar and select PropertiesThen go to the tab Jump Lists and change settings, Or simply disable save information in Jump Lists.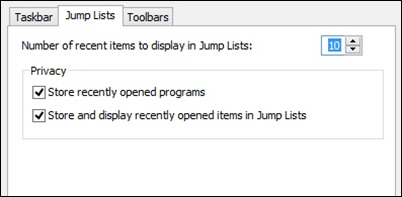 2. A much easier way to make screenshots
Finally, in Windows 8, Microsoft has implemented the very simple way to make screenshots, Namely by using a key combinations. On computers, Screenshots can be done quickly using the key combination Windows + Print ScreenAnd the tablets combination is used Windows + Volume down (Volume down).
3. Can create their own groups in the Start Screen
I talked about this feature in a previous article, Windows 8 enabling users to create their own groups programs, folders and web pages Start Screen. To create a group in the Start Screen, you just need to pull applications (drag & drop) to a free portion from it, and to give it a name (or rename), click on button minus located in the upper right corner of the screen, then right click on the group.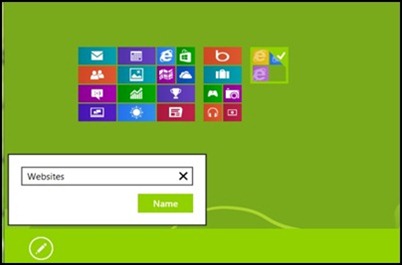 4. A more accessible use multiple monitors
Users running Multiple Monitors will be pleased to learn that moving applications, to files or folders from one monitor to another has become much easier to achieve. If you want to move an application from right to left, Use the key combination Windows + Page Up, Even if you want to move an application (file, etc.). from left to right, Use the key combination Windows + Page Down.
5. Posiblitatea schedule to automatically run maintenance tasks
This can be set in Windows 8 of Action Center. section Automatic Maintenance users can set both time they want the maintenance to take place, and what tasks to be executed. If the system is switched off when maintenance is set, this will be the first occasion in which it will be idle after the scheduled time. In tasks of maintaining of the current included software updates, security scans system and Diagnostic actions.
STEALTH SETTINGS - Five hidden (but important) features of Windows 8
Five hidden features (but important) Windows 8