As you probably noticed the computer has become a basic component of most families home and children are often the main beneficiaries of these technological wonders what has become a luxury item in the late 2000 in one trivial. In the following we present some ways to limit (we can not prohibit total) children's access to this means of communication, entertainment and even Study.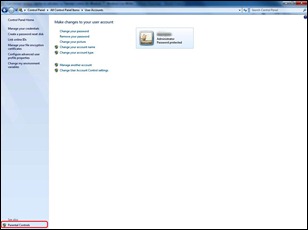 Function Parentals Control that you can access from control Panel > User Accounts at the bottom left, you can make after you have defined a limiting his junior user in several ways and computer access or access to certain applications, games, etc.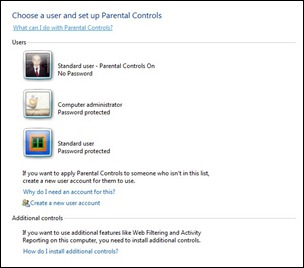 To be effective Parental Controls function will have family other users have access to a password protected.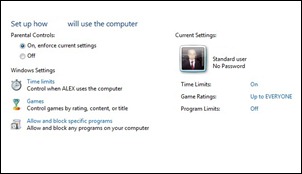 Parental Control offers the possibility to establish a schedule for small user access to your computer by selecting the option Time Limits You can limit access to games that do not fit into this age group of option GAMES and you can limit access to certain programs installed on your computer with the option Alow and block specific programs.
Window Time Limits you can select with the mouse small timeframe in which user can access the computer for each day of the week and you can modify whenever needed.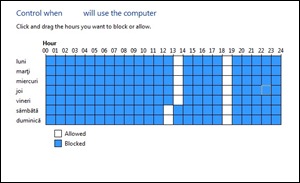 with option GAMES You can filter the games that are not dedicated to their age (Games Restriction) But were employed (Games Controls) The criteria it has Windows or you can block access to all the games.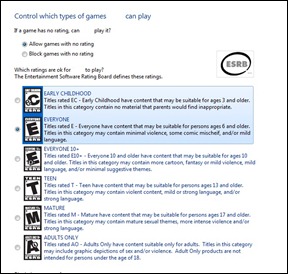 Last option, Alow and block specific programs, allows you to limit access to certain programs installed or junior games which were employed in Games Controls. Here you can check other criteria junior block access to applications that contain his scenes images of violence, offensive language, blood, alcohol, drugs, etc..
We hope you Was this article helpful and so small users were protected from excessive computer use.
How we limit the access of children to the computer with Parental Control in Windows 7