If you want to have fast access certain applications installed WindowsBut do not want to display Emoticons their desktop or fix them (pine) in taskbarOne option would be to add shortcuts Those applications in right-click menu (context Menu) Of the Desktop.
The easiest way to add shortcuts to certain Windows programs in Desktop Context Menu is through a Free utilities si portable (No installation required), called DeskIntegrator.
How does DeskIntegrator?
after download archive which contains utility (link the end of the article), extract its contents and run DeskIntegrator.exe (For this to work, the utility must be run through Administrator rights)
in open dialogue, enter name of a applications for which you want to add a shortcut in context Menu si path by it (click the button shown in the right Path and navigate to application location s); and add optional icon the shortcut and select position you want the shortcut menu that has a handle
then click on the Add / Modify and on OK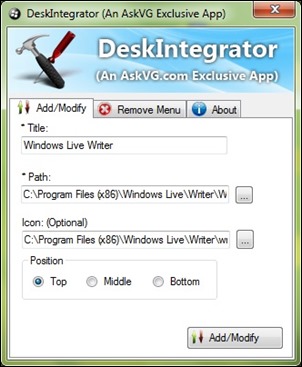 To remove shortcut a program of right-click menu of the Desktop, Run DeskIntegrator and click on the tab Remove MenuThen select the shortcut and click on the respective remove.
Note: To extract .ico files from a Windows application, use the BeCyIconGrabber utility, which you can download from here.
Credit @ AskVG.com
STEALTH SETTINGS - How to add app shortcuts to the Desktop Context Menu in Windows
How can add shortcuts to the applications installed in the Windows right-click menu of the Desktop