Windows 8 comes bundled with a feature auto-quit applications identifying when closing open applications or system restartarii and their close forced. Although this feature can be helpful for those who want a quick shutdownOften happen to forget to Save changes made applications open before you close the system, in which case self-quit featureul is not our ally.
Users who want to still have a chance when you take your fingers forward and give shutdown without chance to save what worked before, may change Windows shutdown policy 8 disabling feature the auto-quit applications.
Disable auto-quit feature in Windows applications 8
open Group Policy Editor (In Start Screen enter gpedit.msc, select Apps in Side barThen click on gpedit in the main window, or open Run using the key combination Windows + R, type gpedit.msc and give OK)
navigate to Computer Configuration> Administrative Templates> System> Shutdown Options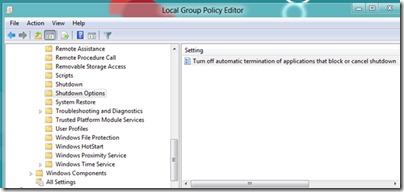 in the right pane, double-click the entry Turn off automatic termination of applications That block would cancel shutdown
in the open window, select EnabledThen click on OK and close Group Policy Editor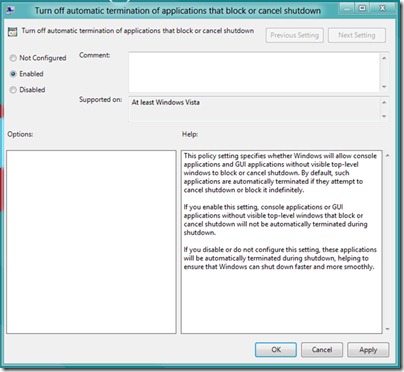 If you ever want to reactivate feature the self-termination applicationsFollow the steps described above and select not Configured or Disabled.
Note: To make changes to Group Policy Editor must use a user that has administrative rights system
STEALTH SETTINGS â How to disable auto-termination of applications blokc That Shutdown in Windows 8
How can disable auto-completion software applications that block Shutdown in Windows 8