Like Windows 7, Windows 8 Prevent the custom themes (third-party) By default, but can be installed if previously are patch look some file system. For modifying system files can be quite riskyNot recommended side-stepping the patch manually them, especially for novice users, but this can be resolved quickly and with minimum risk through utility UltraUXThemePatcher Windows 8.
UltraUXThemePatcher is a free tool, With which users can install Windows 8 third-party themes the systems supplied. The application automatically identify Windows version uieste and patch system files needed (uxtheme.dll, themeui.dll si uxinit.dll) To make it possible to install custom themes.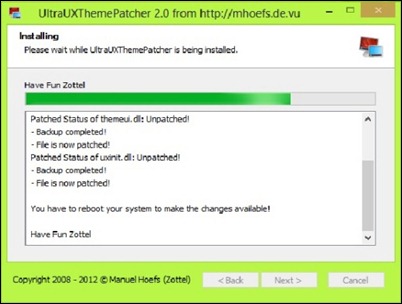 Also, it created a backup of the original file system so that they can be restored if applicable.
After side-stepping patch system files, custom themes you want to install must be copied to the folder C: \ Windows \ Resources \ Themes (where C is the partition where Windows is installed 8).
Note: UltraUXTheme Patcher is compatible with Windows 8, 7 Windows, Windows Vista and Windows XP (32-bit and 64-bit).
STEALTH SETTINGS - How to install third-party (custom) themes in Windows 8
How can install third-party themes (custom) in Windows 8