for users FacebookProtecting privacy was always a priority, so that Facebook updated regularly privacy settings both personal accounts as well as public pages. In some cases, however, constantly changing privacy settings may cause confusion among users, as nemaistiind they can access some of these settings.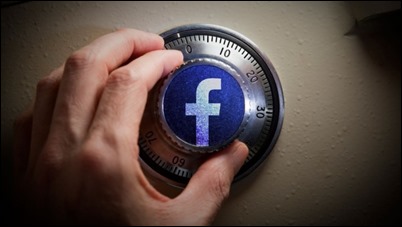 One of the most difficult privacy settings identified is the one that gives users the ability to hide (Or change the audience for) contact list (Friends). If you want to hide friends list on Facebook from prying eyes and you have no idea how to do this, you can access that setting by following the steps below.
How to hide the list of contacts / friends in Facebook?
As with updates made by users (statuses si uploads), Facebook offers them the possibility to choose visibility (Audience) for friends list, The available options are Public (Any Facebook user has access to friends list) Friends (Only those in the friends list have access to that list) Only Me (Only the user in question has access to the list of friends) and Custom (Users have more options available, including Friends of Friends or Specific People). To change privacy settings for friends list, follow the instructions below:
Log on Facebook personal accountThen go to Timeline and click on the tab Friends (under Cover Photo)
click on edit button displayed in the right button Find Friends (Right, above the list of friends) and select Edit Privacy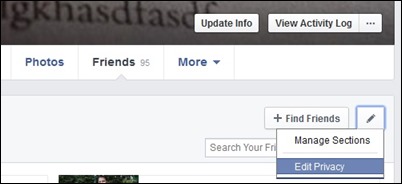 then click on dropdown displayed right Friend List, Select the desired privacy setting (Public, Friends, Only Me or Custom) and click on the button Close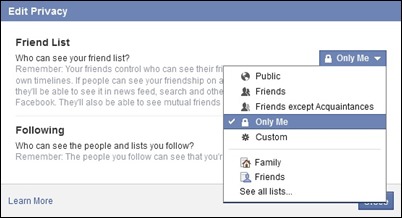 And that's it. By following these instructions you can hide friends list or change its visibility depending on your preference.
STEALTH SETTINGS - How to hide your friend list on Facebook
How can hide friends list on Facebook