As you probably already know, the design Windows 8 slightly different (yet) of Windows 7. Among the few differences mentioned in This article mention and display User Tile's (user picture) in System tray, Next time, this is also the shortcut by user's personal settings. For those who want to benefit from this feature available starting with Windows 8 and on the operating system Windows 7, the application Taskbar Usertile is the easiest solution.
How to display User Picture in Windows 7 Taskbar?
Taskbar UserTile is a utility little to help users Windows7 interested user picture display (User Picture Tile) To the right of Taskbaracquis (In systray, near time and date), as it appears in Windows 8.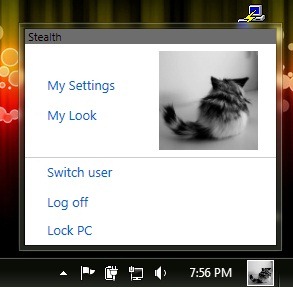 How to use Taskbar UserTile?
After which download archive, Extract its contents and replace the files in the folder Resources with your picture used as User Picture (Keep the image file name and extension). Then run the UserTile.exe (No installation required, can be stopped / completed by Task Manager). If after displaying the User Tile in Taskbar you will click on it, you will be able to quickly access the settings User Accont in control Panel.
Note: The application is compatible with operating systems only Windows 7, on 32-bits and 64-bits.
STEALTH SETTINGS - How to display User Picture Tile in Windows 7 Taskbar (Windows 8 Feature)