Probably one of the ads that most users Facebook did not know how much you were expecting was made yesterday by founder social networkingMark Zuckerberg, and that name will soon be able to use anonymous login to visit sites and use various applicationsWithout that they have access to information that users want to keep them private. What does this mean exactly?
Some perhaps may think that option anonymous login will enable them to log on Facebook in anonymous. Total wrong. Logging anonymous but will enable them to log on different sites requiring either create an accountOr use of a Facebook Account to have access to the informations available on these sites (or to interact with other users thereof). Choosing anonymous login made available by Facebook, users can restrict access third parties to Personal Information such as name, profile picture, birthday, contact list etc.
The same is true for applications used by users Facebook, They can take now control on volume of information they receive such applications on them. In addition, the applications will not be able to post updates on the timeline sites users without their permission.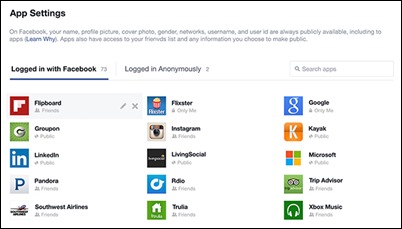 However, Facebook users should be aware that using anonymous login to log on to various websites and applications will not help to be totally anonymous; using their services will not be at anonymous FacebookFor each user registering the exact applications and websites that have been logged anonymously (which will cause this information to worth much more advertisers who want to targeteze certain user groups according to interests thereof). More specifically, even if the sites and applications which will use anonymous login will not be able to access your information as Facebook user, Facebook will know exactly what each of the sites and applications you will anonymous login.
STEALTH SETTINGS - Anonymous login to Facebook to protect users enter personal time
Facebook introduces logging anonymous to protect users' personal information