Windows 8 signifies the transition between old operating systems Windows and modern, opening also a number of opportunities for MicrosoftBoth in terms of desktopURLs and also tablets. Modern designIn style metro, The interface, animations si modern applications are still the subject of controversial discussions, attracting fans and critics alike, skepticism and enthusiasm. But we must recognize that the new operating system Windows move very quickly and climb some steps on the ladder performance.
If you're part of those who have already chosen to use Windows 8And i want to improve both speed and performance, then we recommend you try the application EnhanceMy8.
EnhanceMy8 is an application available in both free version and in pro version (Happened), which combines tool maintenance sites, Such as disk Cleaner, Disk Defragmenter, System Info si registry Cleaner with a number of tweakuri designed to improve experience Windows 8. The interface also has IU still Ribbon and allows for quick and easy navigation through the many options available.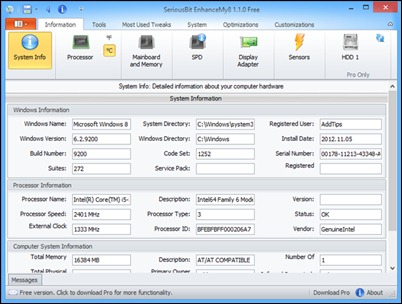 The main window contains 6 tabs, Each containing additional buttons for Quick access to tweak sites, in maintenance utilities and information about the system. Tool Information tab sites are open when they are released, so users with access to complex information about hardware and system software (For example, you can check CPU temperature, Information about motherboard si memory, video memory or information related to the operating system).
In tab Tools, You have different utilities to tweak, such as the registry or hard-drive maintenance. You also have access and system services and processesThat you can either stop them when necessary or even to change priority. Through registry CleanerYou can solve a series of registry errors or delete unnecessary or erroneous entries of them. disk Cleaner like very much utility integrated into WindowsBut is only available in the Pro version (also has application and tab Most Used Tweaks, Who can be very helpful when users want to repeat a series of actions to performance improvementWithout having to search through dozens of options, but unfortunately this tab is, in turn, only available in the Pro version).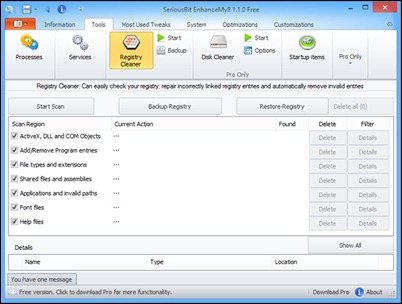 Tab System provides access to create restore point sites and will reach tool's security and maintenance, and also s tool system or network. In free version, You get only the option to create restore point sites in order of any system restore, and system tool sites (which lets you fast access la Links tool Windows, Such as Command PromptCPC, computer Management si Device Manager, character Map, Magnifier or Computer).
Tab Optimization includes some system optimization options operatingAnd in terms of the memory, as well as Startup or Shutdown. And tab Customization You could use some tweaks to Taskbar, Desktop, Icons, Folders and Context Menu (some of these are available tweakuri again only pro version).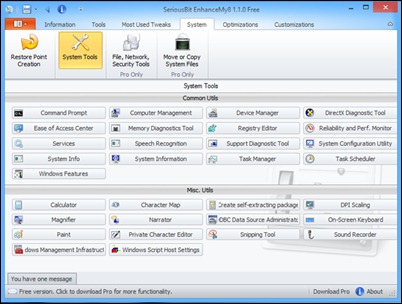 Although many options of EnhanceMy8 not available in the free version, certainly those that access will convince you to make a Test Drive the application. And if you will decide that pro version worth, application costs $ 29.99.
Note: Only compatible with operating systems Windows 8.
STEALTH SETTINGS - Improve Windows 8 performance with EnhanceMy8
Increase performance Windows 8 with EnhanceMy8