Easy to interpret reasons (such as negative feedback received more controversial version after release Firefox 4.0), Mozilla has never tried to implement current browser interface, Strata, And its versions for mobile platforms. Since the launch of the first version Firefox for AndroidWere experienced various interfaces versions for tablets or smartphonesExperiments that resulted in an almost non-existent similarity between the appearance of the desktop version and the mobile version appearance. Australis Mozilla is an attempt to offer users the same Experience and the same interface for all versions of Firefox, whether for Windows, Poppy or LinuxOr mobile platforms such as Android.
The first thing that jumps in the eye when it comes to Australis are rounded corners of tabs and even those at the bottom of the browser. Also, the pop-up dialogueSuch as those for Settings or DownloadsHave corners rounded, as well as the search box or address bar (Address bar).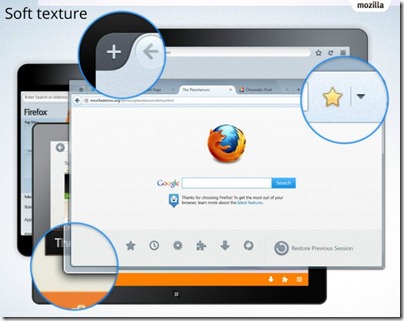 Even Metro version of FirefoxDeveloped specifically to match the new Windows interface 8Will be rounding its specific Australis.
New Firefox interface will be quite different from the present, in turn will lead to less of Opera and a more ChromeBut also will and different design elements (Probably meant to close the mouth of what they see in this similarity another reason for critics), such as flat appearanceBarely noticeable, the inactive tabs.

Although we still have to wait a few months until the new interface will enter the right (most likely this will happen with Metro Firefox releaseAt the end of 2012), some versions Mozilla Firefox have already implemented Feature Links inspired by Australis (such as simplified buttons Download and dialogue in Firefox Nightly 15 or some visual Firefox for Android). For those who want some more information about how it will look new unified interface for FirefoxMozilla has made available interactive demos (Web-based) for Australis available for platforms Windows, Linux si Mac OSX.
STEALTH SETTINGS- Preview for Mozilla Firefox new interface Australis
Preview of the new interfaces Mozilla Firefox Australis