If you are eager to know more information about the next WindowsIt seems that you no longer even than expected: sources close microsoft confirmed that the first version preview a Windows 9 will be launched in late September (Or, in the worst case, in early October this year). So, no matter how little is currently known about the operating system (although it is already known that it will reintroduce Start menuWill give up Charms menuWill allow running modern applications window and insert mode virtual desktops, While the existing feature OS X or Linux. The new system Windows will be a universalAvailable both computers as well as mobile).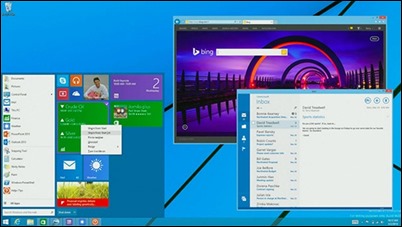 Another good news for users is that Windows 9 Technology Preview will be available for anyone who would like to test this version, the only condition will be fulfilled being to agree with installing updates monthly be received by the system.
For now it is unknown whether microsoft plans to release a version Consumer Preview for Windows 9 or version Technology Preview will be the only preview version released for this operating system, but it is known that final release will be held in Spring 2015, Which means that Microsoft has modified regular schedule, opting for a more rapid release than we had used in previous years, with previous Windows systems.
STEALTH SETTINGS - Windows 9 Technology Preview to be released in late September
Windows 9 Technology Preview will be released in late September