Although several weeks have passed from HalloweenIt is never too late to play a trick on their friends. One idea would be using special effects voice for telephone conversations with them (along with recommending and hiding phone numbersSo that they may not be aware who the person who sounds). Although there are several applications for different mobile operating systems that enables users to change their voice, they must configured before starting the call, and the voice can not be changed back into driving.
VoiceChanger is a tweak for iPhoneAvailable in Cydia store siteThat allows users to use a number of special effects fun to change voiceAnd in addition they can be applied live and modified during telephone conversations.
After installing the tweak's, it can be configured via the stock Settings (activation si deactivation). Then, in Voice EffectUsers can choose one of four special effects funny, and can also normalize voice in real-time. The options are offered tweak dark Lord, Tenoro, Normal-No Effect, Smurf si Rumplestiltskin.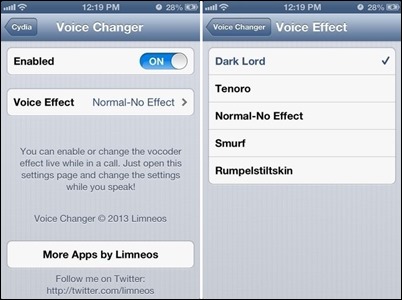 The application cost 2.99$ and can be downloaded from Cydia Store (Is available only iPhones with jailbreak). It is also compatible only iPhone 4S si iPhone 5.
STEALTH SETTINGS - Apply voice live effects during calls on iPhone with VoiceChanger
Apply live effects for voice during telephone conversations on your iPhone with VoiceChanger