After some time writing about AdBlock Plus web application, With which users can block ads si pop-ups displayed when the sites online. Last Update of these applications now allow users to block also ads displayed in Facebook accounts, as well as Recommended pages displayed in News Feed (Such as Pages That You May Like, Rate this movie etc.).
Surely you've noticed that when you give like a post the shared a Contact Facebook a public page, Facebook will give you the opportunity to give Like the page directly from that post.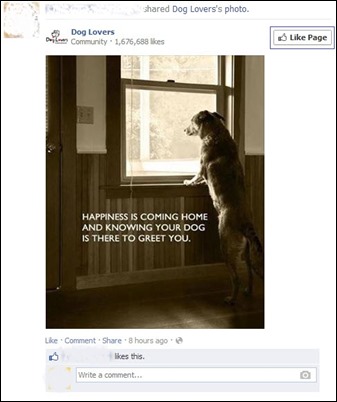 It will also display Similar pages with that page under the post to which you gave like.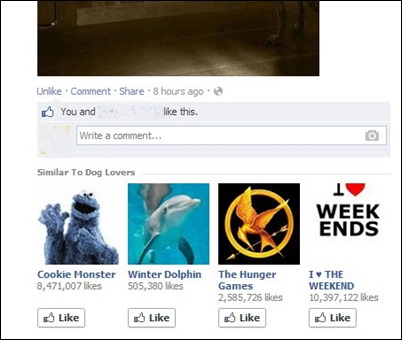 While this is intended to help our users in reality does nothing but irritate the vast majority of them. Other Feature Links irritants Facebook and suggestions are Rate this place, Rate this artist, Rate this movie etc.
If you want to get rid of these s feature FacebookYou can them hide using new release the application AdBlock Plus.
How can block ads, recommendations and suggestions with AdBlock Plus Facebook?
First you have to install AdBlock Plus extension for browser you use to log on Facebook personal account. Then visit the following link customize to your account:
users Facebook have available three options:
blocking advertisement both from sidebar as well as those of News Feed
blocking only ads sidebar
blocking only Ads in News Feed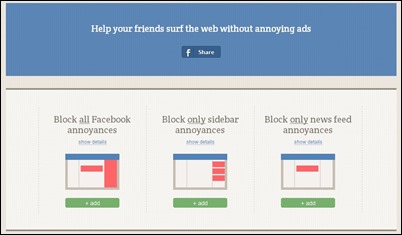 To enabled desired by you just need to click on the + Add displayed below it, then click on Add Subscription.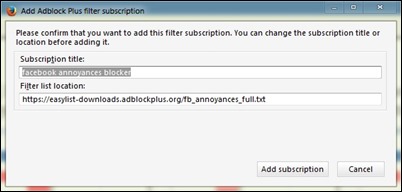 If inexplicably will miss you Ads on Facebook or recommendations / suggestions in News Feed, you can disable filters for which the AdBlock Plus Options (In Firefox, open Add-ons> Extensions, Click the button Options next AdBlock PlusThen on Filter Preferences).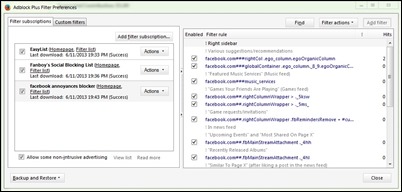 Download AdBlock Plus Extension (Firefox, Chrome, Opera, Internet Explorer).
Note: Extension AdBlock Plus is available for Android OS.
STEALTH SETTINGS - Block Ads and Recomandations on Facebook with AdBlock Plus
Block ads and recommendations on Facebook AdBlock Plus with the new update