A few months ago I was telling you about application Real APK Leecher with which users can download apk application from Google Play directly in personal computer. This application it is useful to users who want to install some Android pe devices supplied, but can not do so Play Store on grounds of incompatibility (This app is not compatible with your device). If you do not feel comfortable using a third-party application to obtain the desired applications in apk format, And do not want to waste any time looking for other applications such sites (In addition, this is risky), we have a simple solution for you, namely Evozi.
Evozi is a web service through which users can download Android from Google Play in format apkDirectly on the computer (or device) provided.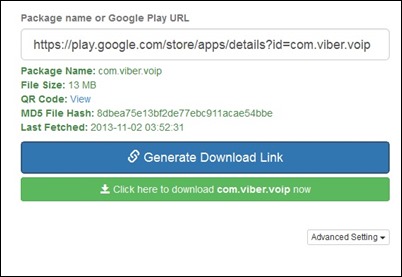 How does Evozi?
The idea is very simple: copy Play Store link in the application you want to download, then let pasta Evozi service pageIn the field below Google Play Package name or urlAnd click on Generate Download Link.
Wait a few seconds (or minutes, depending on the size of the application), then after generating download link, Click the button Click here to download apk-name now (where apk-name is application name you want to download). Simple.
Download apk apps (Evozi Web Page).
Note: Evozi service only works for free applications from Google Play Store.
STEALTH SETTINGS - Download apk files (Android apps) directly from Google Play Store
Download APK (Android) directly from Google Play Store