The new version of the browser Internet Explorer, Launched with Windows 8.1, Is now available for OS Windows 7. Although Microsoft will automatic software update in that by means of Windows Update in the coming days, if you do not have patience, you can Download the final version a Internet Explorer 11 for Windows 7 on the official website (available in browser 95 languages different).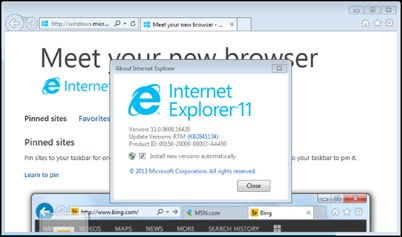 Internet Explorer 11 comes with a number of improvements, Such as speed si increased security, better performance, reliabilit si Interactivity, as well as Feature Links si Links tool us (WebGL support and videos HTML5 plugin-free).
Internet Explorer 11 is not only compatible with the operating system Windows 7, Windows 8 si Windows 8.1. We recommend updating browser even if not to use it very often used (or not used at all) because of security.
Download Internet Explorer 11 for Windows 7.
Note: To be able to install IE 11 on Windows 7 must have SP1 installed.
STEALTH SETTINGS - Microsoft released the Internet Explorer 11 for Windows 7
Microsoft has launched the Internet Explorer 11 for Windows 7