A few days ago announce the Facebook for Android application launch Home, a kind of launcher for smartphones which keeps the user's attention focused Facebook account. Although the use of such a launcher is not such a good idea (at least not for productivity: P), many Android users are curious to test new Facebook HomeEven if Facebook itself is trying to put a spoke in our wheels like application availability for certain regions (Originally it was available only for the U.S.Of today have been added to the list of other countries, including Romania) And only for a limited number of smartphones: Samsung Galaxy S3, Samsung Galaxy Note2, HTC One X+ si HTC First (Phone launched Facebook Home as main launcher), Followed after their launch the application to be available to HTC One si Samsung Galaxy S4. If the application is installed on a device not compatibleInstead launcher's is showing a error messageThe brand Facebook.
If your phone is not on compatibility list (Short enough that's right), you still possibility to test (And use, if you keep at all costs) launcher's Facebook Home supplied on your smartphone by following the steps in the method below.
How we can install and use the Facebook app on android Home incompatible with this?
For starters, it is necessary your device to be at the rootBecause it involves change ID it from build.prop (To fool Facebook Home that is installed on a compatible device, namely Samsung Galaxy S3). Then you need applications Facebook Home (Obviously) and build.prop Editor (Download links below).
make a backup system in case your Android
transfer application Facebook Home pe sd card (or internal memory phone) and install buid.prop Editor
Launch the build.prop Editor, click on the button Menu phone and select backup (To be returned to original settings when you will saturate the Facebook Home)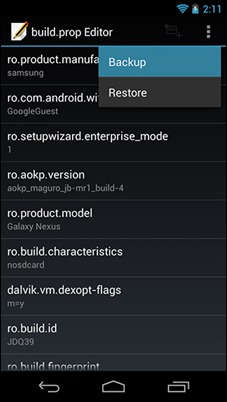 give tap the next parameters and change their values to those specified:
ro.product.manufacturer: samsung
ro.product.model: SPH-L710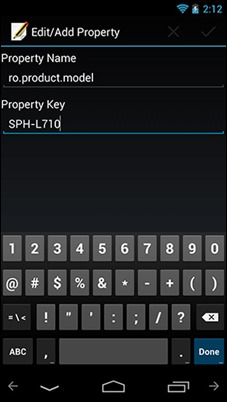 restart phone, update the Facebook app (If you have not done it yet) and install Facebook Home (If you had installed application before making the above changes, make sure it was uninstalled before restart)
And ready, the application will run smoothly and your phone will have to Facebook select Home as the main launcher and enter data logging to your Facebook account.
Download buid.prop Editor (via Google Play).
Note: The application will only work on Android OS 4.0 + (if you have an older Android, tutorial available).
UPDATE: You can install Facebook Home and mobile without root access (And without changing buid.prop), Using a modified version thereof, in which you can download here. Uninstall any means Facebook on your phonethen First install the Facebook application (Com.facebook.katana.apk), and Facebook Home (Com.facebook.home.apk), and Facebook Messenger (Com.facebook.orca.apk). After you install applications (exactly in the order mentioned), launch and log on Facebook (The application itself), then go to Menu> Settings> Account> App Settings and check the option Enable Facebook Home. Enjoy!
STEALTH SETTINGS - How to install on any Android smartphone Facebook Home
How can install Facebook Home on any android