users Windows 8 who miss Aero effectIntroduced by microsoft for the first time Windows VistaAnd retired (some would say prematurely) with the launch New WindowsCan reactivate Aero Glass (Together with blur) Using a free application named Aero Glass for Win8.
Aero Glass for Win8 Use Desktop Windows Manager (DWM) API and creates Aero Glass transparency cu blur effect (Which is missing effect when used other methods Activation Aero Glass in Windows 8) Through Direct 2D si Direct 3D.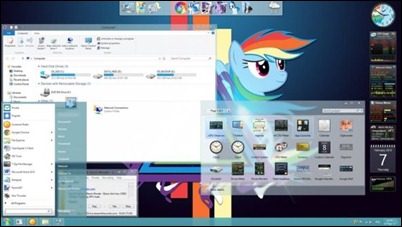 To enable Aero Glass with blur effect Windows 8, users should follow the instructions below.
open the system partition (usually it is C: \) And create a new folder named DWM
download archive Aero Glass for Win8 and extract its contents to the folder created DWM C: \
then open that folder (C: \ DWM) And double-click on DWMloader.exe
And ready. You Aero Glass with blur effect (Just like in Windows Vista and Windows 7) turned back Windows 8.
Note: The application is compatible only with 64 bit versions of Windows 8. Before using the application it is recommended to create a restore point in order to avoid unpleasant consequences.
STEALTH SETTINGS - How to re-enable Aero Glass (with Blur Effect) Windows 8
How can reactivate Aero Glass (Blur Effect) in Windows 8