It is possible that sometimes we find ourselves in the situation where you have to close or to restart immediately Windows. Also, in some cases it is possible that system was not shut down or restart properly and want to avoid this (eg screen Shutting down long remain blocked). In such situations, users often choose to close system using Power button computerBut this method can have severe consequences on the system.
If you you are in a situation similar to those described above, how fast si safe in which you can close or restart faster Windows is to use Emergency Restart / Shutdown Emergency, Implemented microsoft the system since Windows Vista (Basically this method is a forced restart or shut down without timeout).
How to make an Emergency Restart / Shut dowm in Windows?
For Emergency Restart
press the keys Ctrl + Alt + Delete
then hold down Ctrl and click on the button Shut down displayed in the bottom right corner of the screen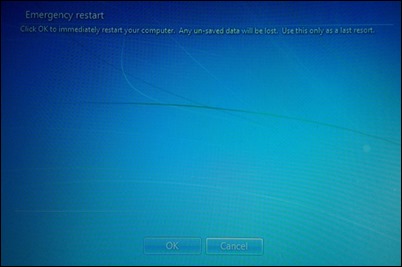 For Emergency Shut Down
open Start Menu (or Charms> Settings in Windows 8)
then hold down Ctrl and click on the option Shut down (Or select Shut down menu Power)
Note: Before you make a restart or emergency shutdown, you must save any document (or anything else) that you work with, otherwise your work will be lost (it will not be automatically saved by the system). Also, when you close the system directly from the Start Menu / Charms bar, Windows will shut down immediately without announcing it before (unlike the Ctrl + Alt + Delete method)
STEALTH SETTINGS - How to Emergency Restart / Shut down Windows
How can reboot or shutdown WinXP