Sometimes, for various reasons, do not want people who have access to computer Our can run specific server applications installed. If you are using Windows, you can restrict access to those applications using a Registry hack (Be aware that this method does not work if you want to block running a system serviceTherefore it has no effect on certain programs using utility rundll32 to run).
How we restrict the running of an application in Windows?
open registry Editor (type: regedit in Run and give Enter)
then navigate to key site HKEY_CURRENT_USER \ Software \ Microsoft \Windows\ CurrentVersion \ Policies \Explorer
under the key ExplorerIn the right pane, create the DWORD entry DisallowRun whom you give value 1
then, still under the key ExplorerOn the left created another key called all DisallowRun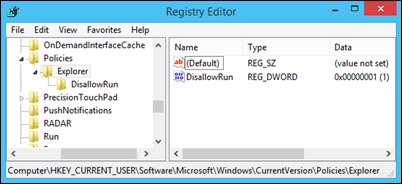 under the key DisallowRun, Create an entry String for each application you want to restrict, whose values will be behalf of such applications (Do not forget to insert and termination .exe, e.g notepad.exe). To prevent multiple applications, numbered String inputs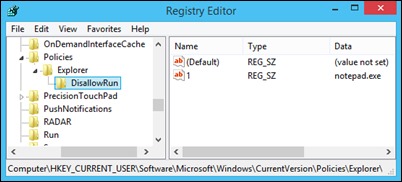 then restart your computer for changes made to take effect. After reboot you will notice that access to those applications will be restricted

Success!
Note: Before making changes to the system registry, create a backup of them to avoid possible unpleasant consequences (eg system errors).
STEALTH SETTINGS - How to restrict an app (.exe) from running in Windows
How can we restrict an application (.exe) to run in Windows