Nokia X, Announced last month MWC (Mobile World Congress) Is first Nokia smartphone running Android. But version Android this device is quite different from the standard versions used by millions of users of this system, and that's because Nokia X runs ASOP (Android Open Source Project) Which excludes applications si APIBut includes its own Nokia API si Microsoft services (Which means that users can not install applications from Play Store, Only the Nokia's storeWhich although contains a reasonable number of Android, Does not compare to that of Google).

If you already possess a Smartphone Nokia X or intend to buy one, and you want to have access to Google Play and other Google applications from it, you can install these applications if first Root device. As bootloader for Nokia X is partially blocked and the device is not yet available to the public (only those who have purchased the MWC), There is still a version of custom recovery for it, so method rootare is different from the conventional used for other Android devices. So to Root Nokia X, You need the Framaroot, I wrote about how to use here.
to Framaroot install the Nokia X, Transfer application on SD card or phone memoryThen go to Settings > Security and tick Unknown sources under Device Administration, Then give tap on apk file the application to install (using a file manager to navigate to the location where it is stored).
after install Framaroot, Use the exploit Gandalf Included in this to root the device
then install an app root-level explorer (e.g ES File Explorer or Root ExplorerWhose files you can download the apk Google Play using instructions here or here) And download the two Application packs Google whose download links available at the end of the article (NokiaX_GApps Zip si NokiaX_SomeGoogleApps)
Extract the contents from NokiaX_GApps and using root exploreracquis copy the extracted directory applications / System / app
then set permissions for each of the added like in the screenshot below (read for Owner, GROUP si Others si write only Owner) and restart the device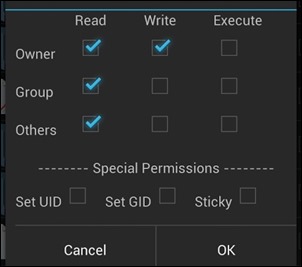 After restart, remove the applications from The second pack (NokiaX_SomeGoogleApps) and install them normally (just like you installed Framaroot and root exploreron each of them (if you want to use the launcher Google Now included between applications archive, open it immediately after the install)
then launch Play Store and enter login information for Your Google Account to use shop
And ready. Following the above instructions will be Root smartphone Nokia X and you can install and use these The Google Play Store. Success!
Download Root Explorer / ES File Explorer (free).
Download NokiaX_SomeGoogleApps.
Credit: @ xda-developers Kashamalaga
STEALTH SETTINGS - How to root and install Play Store on Nokia X Android device
How can we root and install the Android Play Store on your Nokia X