Nowadays, when Facebook It has become an integrated part of daily activities wherever catch a computer or mobile cu Internet connection (That if we do not get our handy), we login to check updates on Facebook (Be it a computer at work, at school, at the library or an Internet cafe, or smartphones or tablets friends) and most often simply close our Facebook site, without giving log out before. In this way, Facebook our stay connected in most situations on devices that have accessed personal account. If further worry that other people with access to computers / devices in question could access and Facebook account, You can remote disconnect it using the instructions below.
How we disconnect from the remote personal Facebook account on other devices?
First, you can use official website Facebook to check active sessions Your account (thereby find out which devices your account remains logged in) and you could end remote sessions concerned.
Login to your account Facebook using a Web Browser
click on down arrow displayed in the upper right corner of the page and select Facebook Settings menu displayed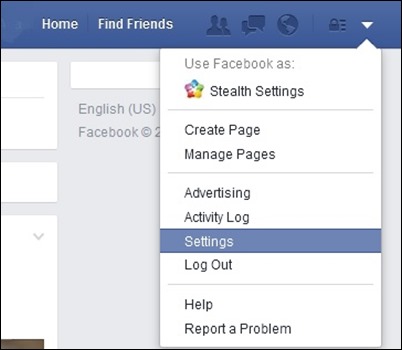 the right of the settings page, click on Security and then on the option Where you're logged in (last page)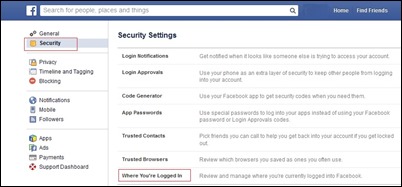 so you display both current session (Open on the computer currently in use), and all other active sessions, Previously logged
each active session displays date it was begun, location, device type on which you log in, browser (or mobile application if the open sessions on mobile devices) and OS used
to active Facebook sessions end, Click on end Activity
If you wish to active Facebook sessions finish of the device mobile, Please tap on Settings icon displayed in the upper-right corner (three horizontal bars), then select Account Settings the menu. On the next page give tap on Security, Then the option active Sessions. In list active sessions displayed, give tap on XCPC displayed next to each session to close these sessions.
This way you can remote log out on Facebook if you forget to give log out when you used other devices apart from the personal to log on account Your Success!
STEALTH SETTINGS - How to remotely log out of Facebook on other devices
How can we log out of Facebook remotely from other devices