Over time, Microsoft has changed the methods of activating licenses for its operating systems. If at Windows XP was enough a serial number that could be activated Windows on countless PCs, over the years the operating systems have evolved and so have the methods of activating and validating licenses.
Windows 10 comes with several types of license, depending on the channel through which the operating system or laptop was purchased. We have licenses OEM, Retail si volume License. Each type of license has separate features and registration methods.
Before you see how can we transfer the license Windows 10 from one computer to another, it is good to find out who they are the characteristics of each type of license, how we can find out which license is activated on PC and how can we disable it.
What is the License? Windows OEM
When you buy a PC or laptop with Windows 10 preinstalled, it comes with OEM license. The OEM license is enabled on the device in the firmware (UEFI / BIOS) and cannot be transferred. So, if you have an older laptop that you want to change, license it Windows 10 from the old one cannot be transferred to the new laptop.
What is a Windows volume License
These licenses are dedicated to large companies, government institutions, schools, colleges and other entities with a large number of computers. Volume License cannot be validated only on company computers, and its activation is done remotely by the IT department, through a KMS server or Multiple Activation Keys (MAK). One license key (product key) is sufficient for all computers.
This license can be activated immediately on any new computer in the company, with Windows 10, without the need to deactivate it on another PC beforehand.
What is a license? Windows Retail
It is the most flexible license, being the only one that can be transferred from one computer to another. The "Retail" license is bought both from physical stores accompanied by a copy medium Windows 10 (DVD, USB) as well as online from Microsoft Store. This license is accompanied by a unique number (product key), which the buyer is urged to keep confidential and attach to a Microsoft account. Basically this is it too digital license (digital license) of Windows 10.
How do we know what type of license is activated on a PC or laptop with Windows 10
Steps to find out the type of license Windows 10 from a PC or laptop with Windows 10 they are very simple. We go to "Settings"→" Update & Security "→" Activation ".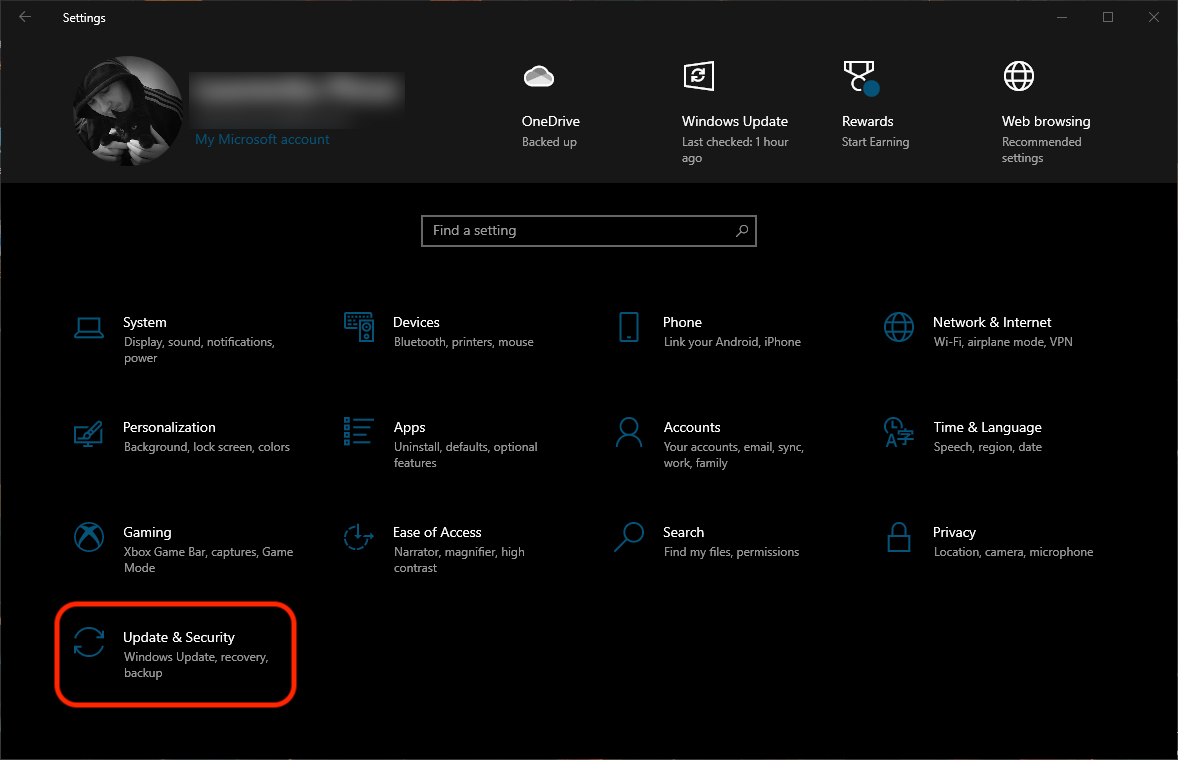 At the top is the edition of Windows 10 installed and the type of activation. In our case we have Windows 10 Pro Insider Preview activated with a digital license linked to your personal Microsoft account. "Windows is activated with a digital license linked to your Microsoft account".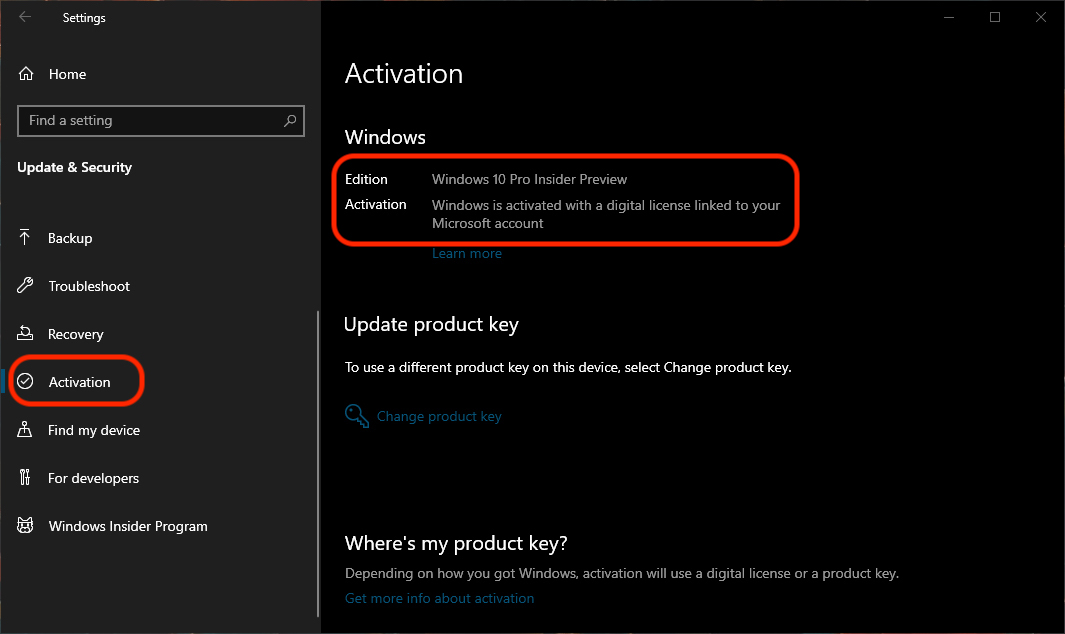 Also from "Activation" we can change the license key a Windows 10.
Another method by which we can find out what type of license Windows 10 we have activated on PC, it is by direct command in Command Prompt.
1. Open Command Prompt and execute the command line:
 slmgr -dli
2. After executing the command line, the license information will appear in a dialog box Windows installed. The channel through which the license was purchased also appears. RETAIL, in our case.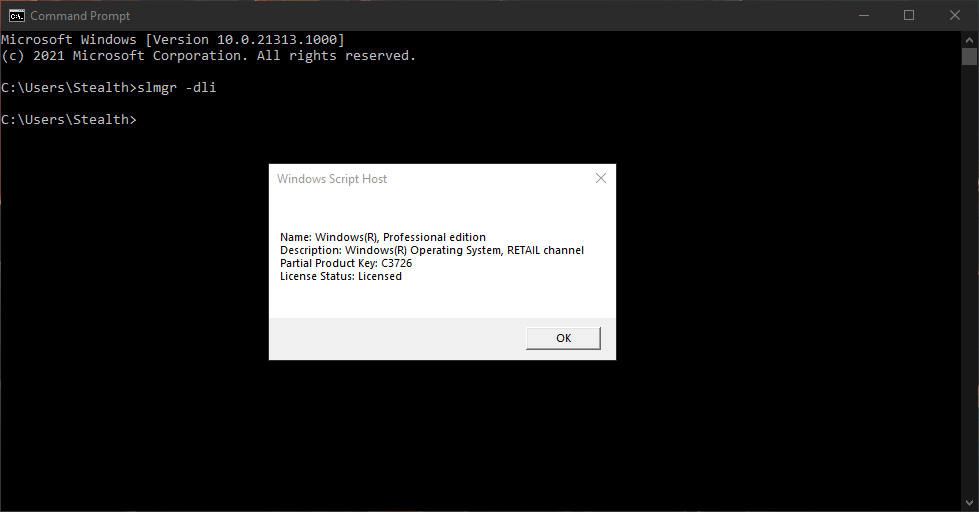 How to transfer the license Windows 10 (Product Key) from one PC to another
The simplest method is by resetting the PC from which we want to deactivate the license. The reset can be done with personal data retention (except installed applications and settings) or total reset, when all data will be deleted and the license Windows 10 disabled on PC.
Before resetting the PC, a general backup of all stored files and information is highly recommended.
1. Go to "Settings"→"Recovery"→"Reset this PC".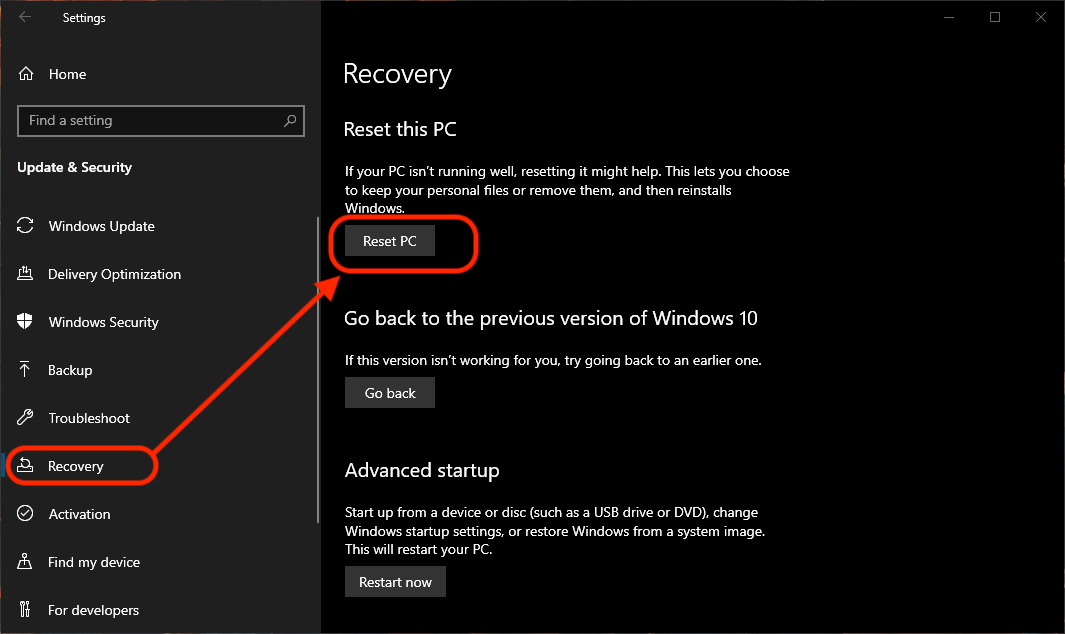 2. In the blue dialog box, choose how we want to reset. With the maintenance of personal files or with the total deletion.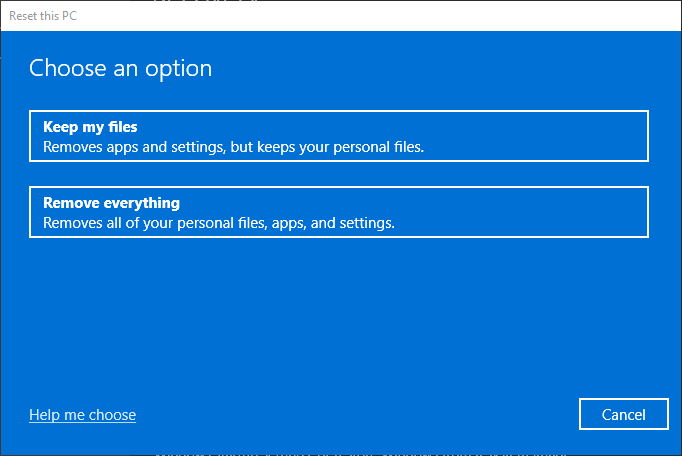 After resetting the PC from which you want to deactivate the license, install a copy of Windows 10 on another PC, you log in with your Microsoft account for which you have an electronic license and register the product.
Deactivation of the license Windows 10 from Microsoft Account
If you have a Retail license registered on a personal Microsoft account (electronic license), it can also be deactivated online directly from Microsoft Account.
1. go to Microsoft Account from any laptop or PC and log in with the same asphalt account on the PC on which the license is activated.
2. On the device on which you want to deactivate the license, click on "Show details".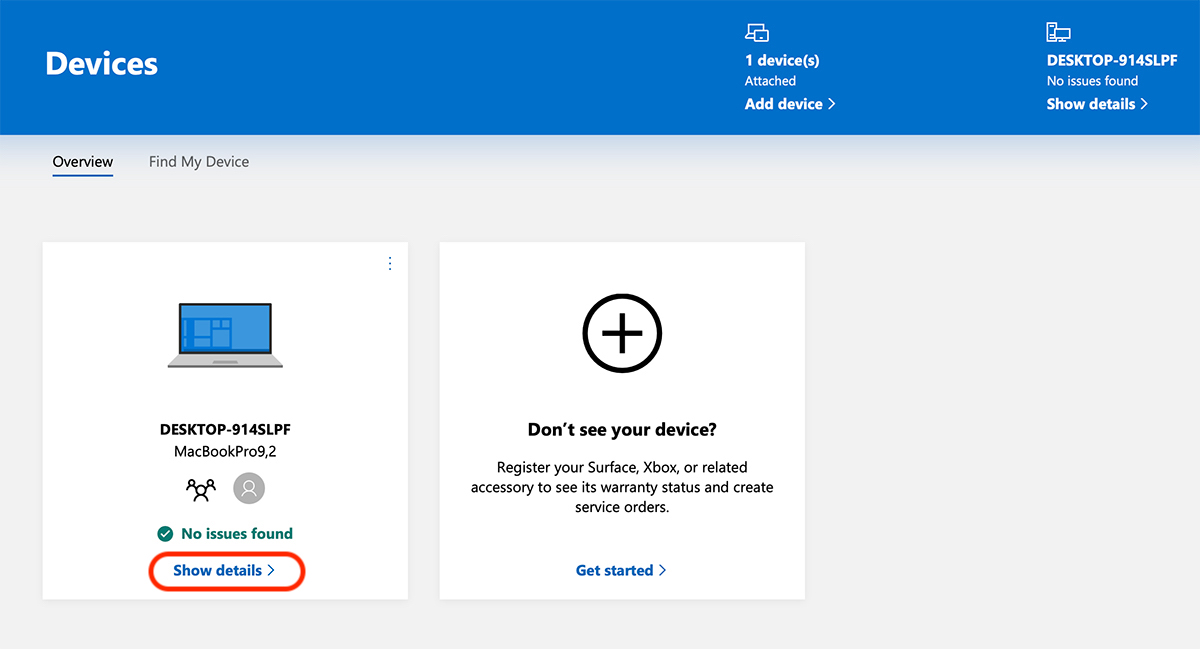 3. Once you have selected the PC or laptop from which you want to deactivate the license, click on "Manage", Then click on"Remove laptop"From the menu that opens.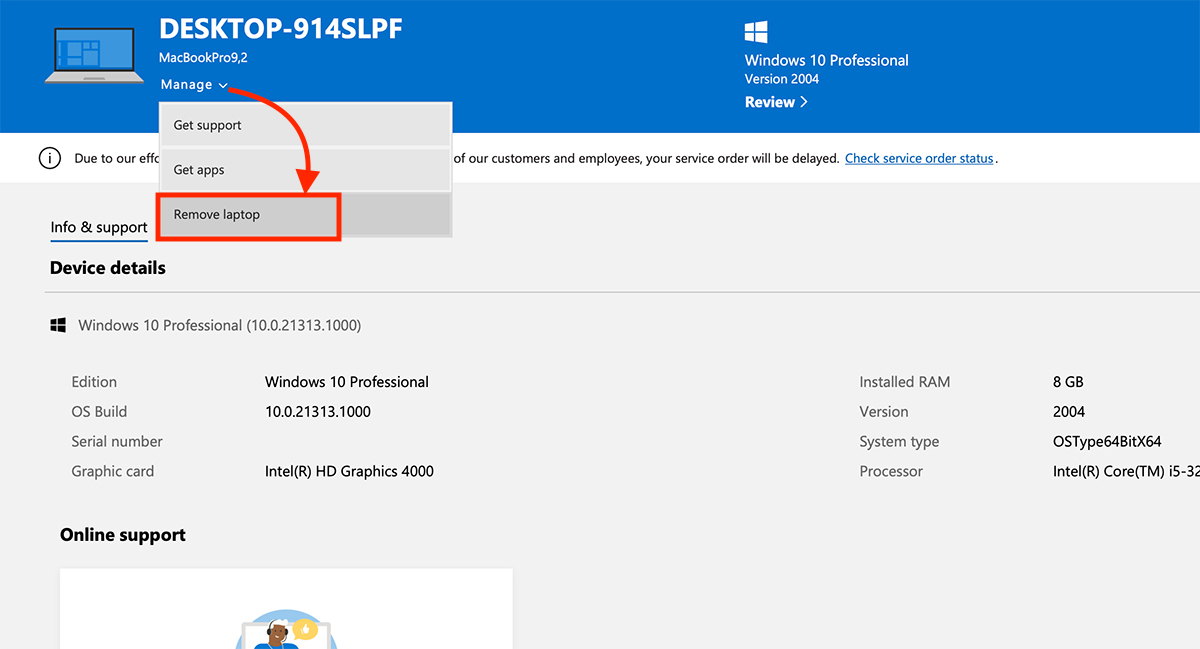 4. After choosing "Remove Laptop"Ticked"I'm ready to remove this laptop"And click the"remove".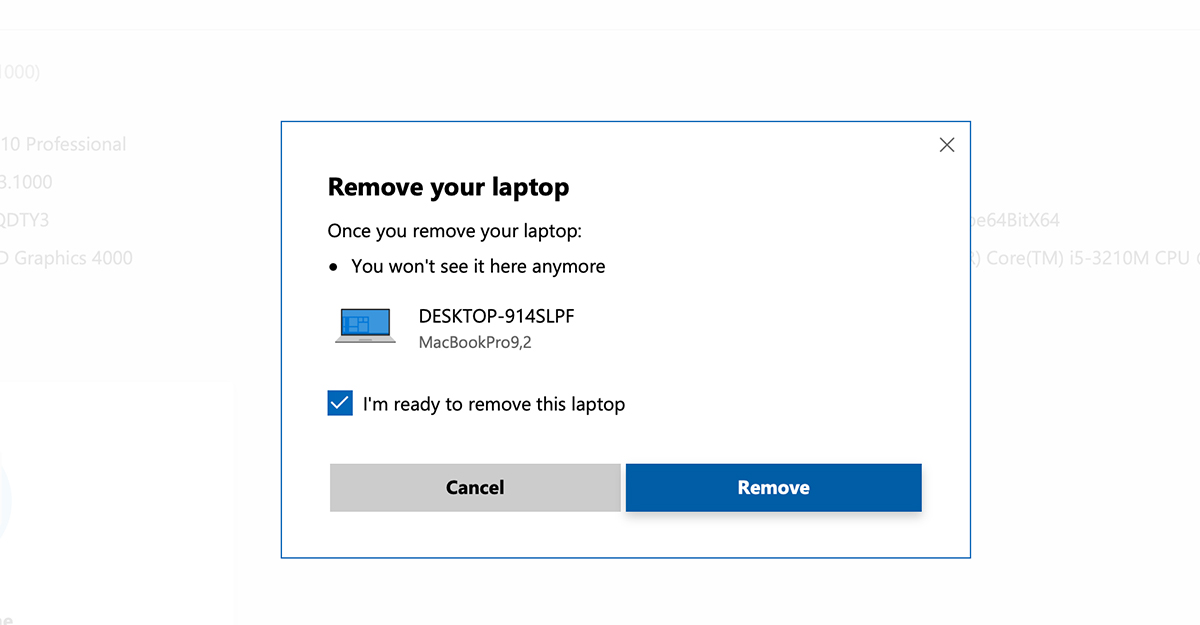 "Laptop removed
We removed your laptop at 3/11/2021, 1:37:44 AM.
This device is still associated with the Store for getting apps & games. There is a limit of 10 devices that you can download apps & games on with your Microsoft account. "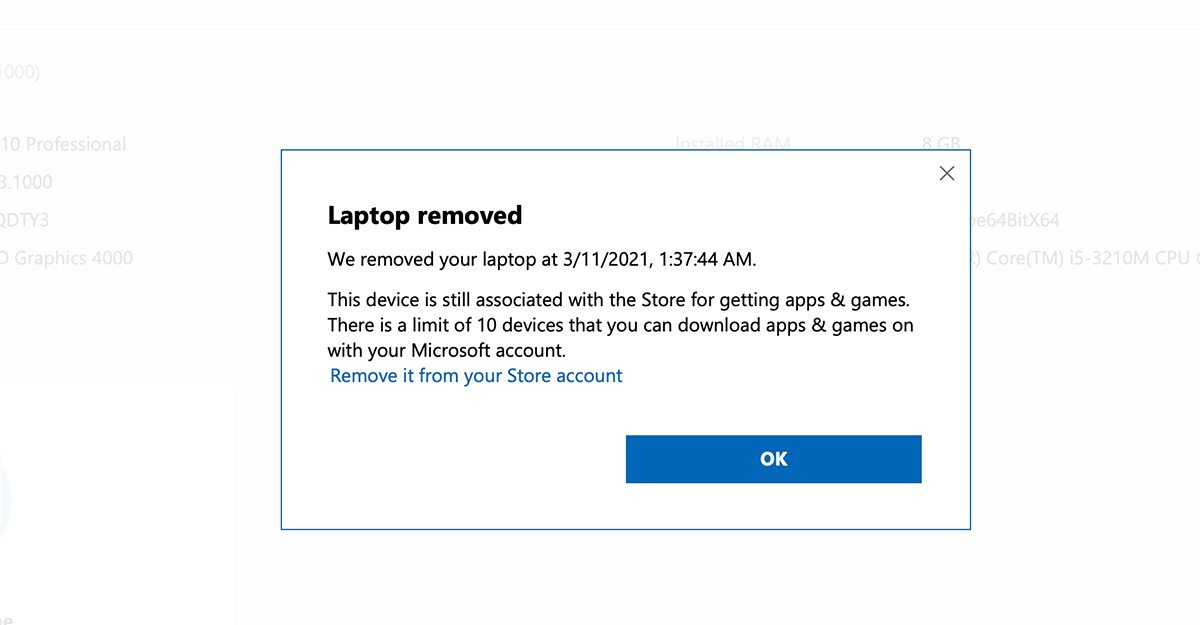 From now on, your laptop or PC with Windows 10 is no longer associated with your Microsoft account, but the license will remain active until your Microsoft account is deleted from your PC. You can disassociate your Microsoft account from a PC in two ways. Complete formatting or deleting the user from whom the operating system was activated Windows 10.