Right after Windows 8, Many users of this operating system They failed to adapt to the major differences between it and its predecessor, Windows 7And preferred to use third-party applications to disable some Feature Links which, in their opinion, they managed to confuse more than help. In an attempt to please even the most grumpy users, Microsoft He made some adjustments Windows 8.1 (Update currently available version Preview) Based on feedback received from them, adding a number of options in System settings allowing disabling that feature sites App Switcher or Charms Bar (Hot-corners), activation booting directly into Desktop (Without the first display The Start Screen) Or Customisation Start Screen more flexible community. Some of the options mentioned above are available in PC SettingsBut an easier way to access them is through Taskbaracquis.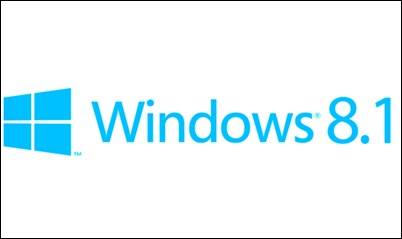 How can we disable hot-corners in Windows NEVER Preview?
right click on Taskbar and select Properties menu displayed
in tab Links, Uncheck When I point to the upper-right corner, show the charms (To disable Charms bar) and When I click the upper-left corner, switch Between my recent apps (To disable App Switcher)
then click on Apply si OK for changes to take effect.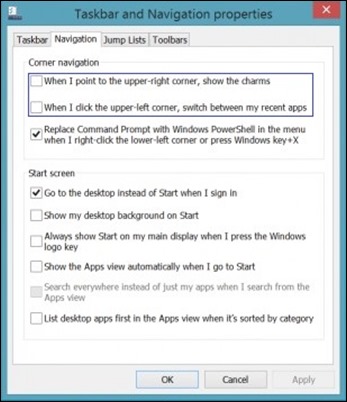 Hot-corners can be disabled and the PC Settings > Corners & Edges > corner navigations.
How can we enable the background display on Desktop as a background of the Start Screen?
In Windows 8.1, The Start Screen has more customization optionsUsers can choose from a wider variety of backgrounds available for it even can set wallpaper a Desktopacquis ca background for Start Screen.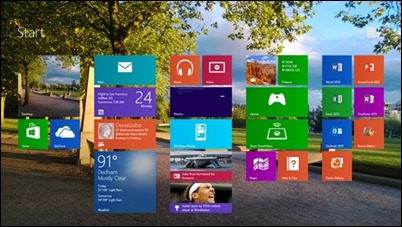 The easiest way to do this is all through Taskbaracquis:
right click on Taskbar and select Properties menu displayed
in tab Links, Check Show my desktop background on StartThen click on OK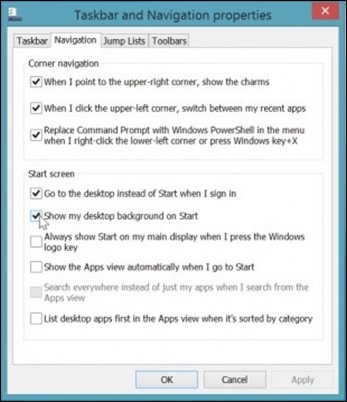 All in Taskbar and Navigation Properties there are other options available, such as the boot directly into Desktop or display Apps view When you click on Start button (Instead of the Start Screen's display) or first listing of applications for desktop in Apps view when they are sorted into categories.
Note: More customization options a Windows 8.1 Preview found in the new PC Settings.
STEALTH SETTINGS - Customize Windows 8.1 Preview directly from Taskbar
Customize Windows 8.1 Preview directly from Taskbar