[After launching Windows 10, Microsoft withdrew all versions of Windows 8 from download. Use the article just as an installation tutorial, if you bought a picture of Windows 8.]
Many users Windows 8 have installed this operating system ca upgrade to Windows 7Because price advantage of microsoft. Because of this, although they use a Microsoft licensed productNot have Windows installation image 8.
Although Microsoft has built into Windows 8 two Feature Links allowing virtually reinstall system or reset in its original settings (reset si PC Refresh), And also provided the users the option to create a Recovery Drive for repair system in case of need, but sometimes these solutions simply are not helpful, and the only remedy is to completely reinstall a system DVD or Bootable USB Stick (Also, in some cases, the installation image is required for repairing the system).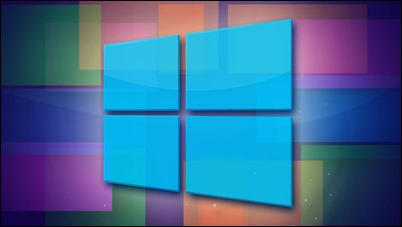 If you did and your upgrade to Windows 8 online and not on a installer (DVD / USB drive) and you want to download ISO image installation this Windows (Not recommend downloading it from the torrentsBecause it can be modified and may include malicious elements) By following the instructions below you can download official imageDirectly from microsoft (Do not need to have an account MSDN or Technet to use this method).
How to download Windows 8 ISO directly from Microsoft?
Note that in order to download the ISO image of Windows 8 using the instructions listed below have necessarily need a valid license code for this operating system.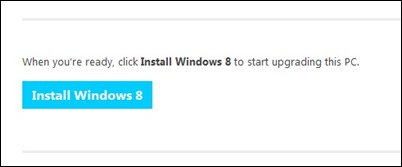 click on it and download setup utility (8 Windows Setup)
run the setup utility and Enter the code license for Windows 8 (This step is only necessary if you want to download images to a computer with Windows 7, On a Windows computer 8 installed, this step is skipped) to start downloading installation image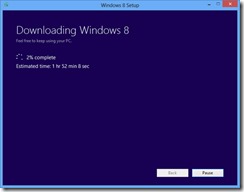 when the download is complete, the image files will be checked (the process may take several minutes)
After checking the files, the setup utility will provide opportunities 3 system installation, select Install by Creating Media and click on Next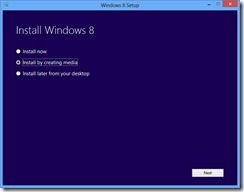 depending on your preference, you can select creating a bootable USB Stick using option USB flash drive (Make sure you have no important files on it, because you will lose the stick should be at least 4GB) or you can click save as ISO file computer (ISO file)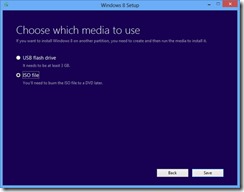 Select where you want to save 8 Windows installation and setup utility will start ISO image creation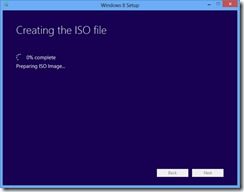 Once created the image, you can use either to create a Installation DVDOr a Bootable USB Stick, Which you can then use to (Re) install / repair Windows 8 (Of course you will also need license code used to download the ISO image).
Note: Using this method, download the ISO image have the same architecture as the system that is downloaded (if you use system setup utility to download the ISO image is 32 bit, the bit will be 32 and installation image Windows 8, the same thing goes for 64-bit)
STEALTH SETTINGS - Download Windows installation image 8 (Original ISO)
Download Windows installation image 8 (original ISO)