If you have installed the new package Microsoft Office 2010 (Office Word 2010, Office OneNote 2010, Excel, Access, InfoPath, Outlook or Publisher) And work more texts in RomanianThen surely it is help of the pack Romanian language for microsoft Office 2010. Office 2010 language pack.
Installing package microsoft Office 2010, language pack default and GUI IM in English language. Language Pack (language pack level) offers options AutoCorrect (for Auto correct mistyped words) spelling & grammar (red highlights mistakes de spelling si Grammatical) and custom dictionary for words and phrases. In addition, all supported languages ​​change the language of the graphical user interface (UI - User Interface). Specifically, if you install and set the Romanian language as the default language for Office, then all options, buttons and work orders will be in Romanian. If you do not know English very well and if you have edited texts for school or work in Romanian, then surely Microsoft Office 2010 in the Romanian language is helpful.
Download Microsoft Office Language Pack Romanian 2010
Romanian-bit 32 (X86): ro (x86) .exe ~ 260.6 MB
Romanian-bit 64 (X64): ro (x64) .exe ~ 265.6 MB
How install package Romanian and Romanian language as we set as default (default) for Microsoft Office 2010.
1. Download Romanian language pack for Microsoft Office 2010. 32-bit or 64-bit. Depending on which package you have installed. Most use 32-bit.
2. Run the executable and follow the installation steps. It is very simple and requires no advanced knowledge.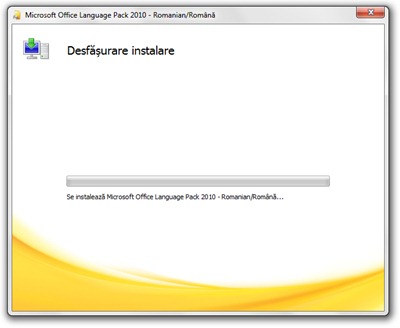 3. If you have Windows in English, the upgrade is complete, go to Start Menu > All Programs > Microsoft Office 2010 > 2010 Microsoft Office Tools > Microsoft Office Language Preferences 2010.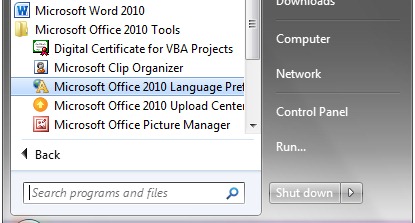 4. In Microsoft Office Language Preferences 2010 Romanian language as the default language set (default) editing, GUI, help si buttons / options.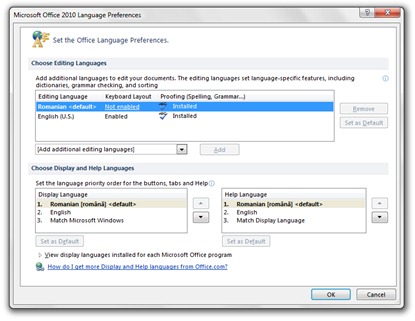 5. After pressing "OK" to save your changes, save and close all open documents in Office (Word, Excel, OneNote, Publisher, Visio, PowerPoint, Outlook ... etc Office Apps).
now you Microsoft Office 2010 in Romanian. Both options editing and correcting text (text transformation include diacritics) and work interface (buttons, tabs, options, context menu, settings and help etc).
Romanian language for the installation package it is not necessary to have activated Microsoft Office 2010 or bought license. Language pack the product can be installed both at trial and on activated cu serial number. Also, after installing the package, you can opt to use Romanian language either for editing or only GUI. There are certainly enough people who even works with texts in Romanian, were familiar with the options and buttons in English. In this case will set the Romanian language only grammar si spelling.
Download 2010 Office Language Pack (Office in Romanian language - Word, Excel, PowerPoint, Outlook, OneNote, etc. MS Office Apps)