A bad news for users iOS 7 who jailbreak made from mobile devices: Apple managed in the update iOS beta 7.1 5 Fixed all security breaches run the tool evasi0n7 to make jailbreak iOS devices.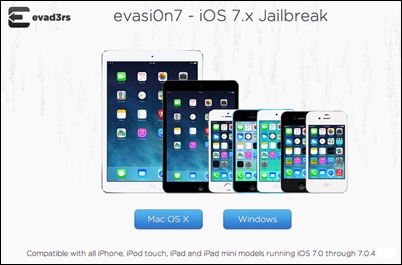 After waiting several months until jailbreak for iOS 7 be available (OS was launched in September last year, while jailbreak for it appeared only at end of December), Users will have to jailbreak using refrain from updating system any version above iOS 7.0.4.
Fortunately for them, updating the system is not mandatory, and at the moment it is not known exactly what improvements bring version iOS 7.1. Therefore, jailbreak fans are advised to wait until those evasi0n team will discover other system exploits on which they can build The jailbreak tool for iOS 7.1But as the iOS version has not been released yet, it will most likely take some time until it will be available.
STEALTH SETTINGS - IOS 7.1 5 beta patches all jailbreak exploits the evasi0n7
iOS beta 7.1 5 off all breaches that allowed the jailbreak with evasi0n7